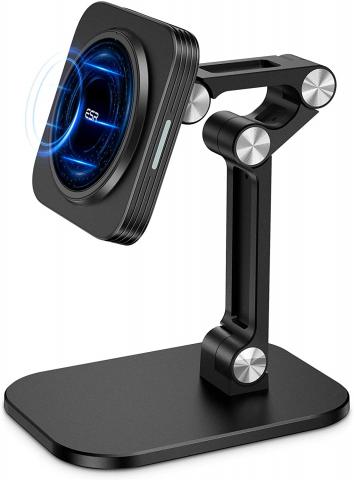 HaloLock Adjustable Wireless MagSafe Charging Stand 
£29.99 
www.esrgear.com 
Wireless chargers are a life-changing piece of technology – rather than the faff of plugging in a phone, or inevitably forgetting to, you can simply put it down and it'll charge away. Placing a regular wireless charger in one of your phone's usual 'sitting around' spots means you don't even need to think about it. 
 
However, when a phone is plugged in to charge, you can continue to use it at the same time. With a wireless charger, it needs to lie there. You can't pick it up to browse your apps or anything else – the best you can do is have a call on speakerphone. Video calls, gaming, reading off a recipe whilst you cook, though – none of this is overly possible. That's where the HaloLock Adjustable Wireless Charging Stand comes in. 
 
This stand does exactly as it says: using MagSafe technology, your phone magnetically connects (meaning, just like with a regular wireless charger, there's no connections or faffing around) to the stand and charges. Meanwhile, you can adjust the stand to whatever angle suits you, allowing you to continue seeing and using your phone. This is especially useful for a lot of the functions that are the biggest consumers of power, such as gaming, watching online videos or making video-calls. I also found it great for having my Spotify up as I cooked, meaning I could select tracks easily, and could hop between that and looking at the recipe I was using with ease. You can even have it to the side to keep an eye on a group chat thread whilst you're doing something else. For almost anything you're doing, this stand makes your phone much easier to glance to or use, and of course, it's keeping it charged the whole time! Then, thanks to the magnetic attachment, it's extremely easy to grab your phone again and wander off with it. 
 
Please note that, like other MagSafe products, this stand is only compatible with all iPhone 12 and 13 models. 
We were sent ESR's Classic Hybrid Case with HaloLock i n order to test the charger, and the two worked together without a hitch. The case itself is simple, see-through, is sturdy and doesn't scratch easily. All good stuff! However, a detail that I really like about this stand is that it also works with a caseless iPhone 12/13 - aka, you don't need to buy a new case to use it. If you want, you can keep the case you've always had, and simply pop your phone out when you want to use it on this stand. 
 
5/5 
 
Pros: 
Easy to use 
Easy to connect 
Smooth movement from stand 
Charges well 
Can be used without a phone case