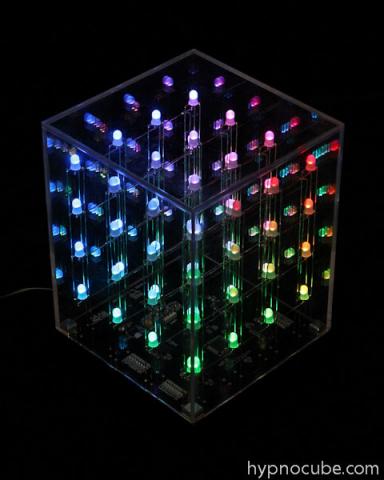 HypnoLight, HypnoSquare and Hypnocube




hypnocube.com



The Hypnocube company has taken programmable RGB LEDs to trippy new heights, utilising the technology to allow you to customise a variety of awesome lightshows in 1D, 2D and 3D! (Well, technically everything is 3D, but let's not get scientific here) We had a look at the HypnoLight, HypnoSquare and Hypnocube to see the different ways these light shows can be taken home and enjoyed.



HypnoLight2




$60
The simplest and most versatile of Hypnocube's offerings, the HynoLight2 is a 12-foot long indoor/outdoor string of fairylights baring 50 RGB LEDs. What sets these apart from a regular string of fairy lights is you can program which colours you want, and how. You can simply select one colour, of any brightness and hue, or you can select up to four in combination. This makes these lights incredibly versatile and re-usable: they can fit the colour scheme and mood of any room or party, and they can be used thematically for every kind of holiday! Christmas time? Try red, green and white. Halloween? Orange, purple and green. 4th of July or St Patrick's Day – well, you can figure those out pretty easily! The lights are even capable of doing pastels, for Easter or any other time that you might want softer colours than the standard LED blare. In fact, each bulb can, thanks to their broad spectrum, displaying 16 million individual colours – you can set them to the exact shade you want.
On top of setting the colours, you can also select what pattern you would like these lights to display in. This is more than the few standard fairylight flash settings: these lights have 30+ patterns through which the colours to show and morph with extremely smooth transitions, and you can even adjust the brightness and speed. Within the patterns you select, there are randomised elements that keep your display fresh and organic to look at for an extended period – no wonder it's hypnotic!





Incredibly – and, for me, this was possibly the most impressive fact about these lights – they can sync with other HypnoLight units, and the patterns will connect up end to end, meaning that you can use multiple sets to decorate a large area (like outside your house) and you will get one consistent pattern occurring throughout. This is possible for up to ten units. It goes without saying that these lights are made to be safe in the rain, covered in a reassuringly hardy-looking plastic casing.
It feels like I'm nowhere near finished with describing all of their features (for example, you can disable certain pattern options if you absolutely hate them, and the unit's memory will allow you to select between two pre-sets.) My one issue is that you control the light colours and rhythms with a remote control that initially looks a little daunting, just from sheer number of options, whereas an app might have been a more user-friendly experience. Then again, with so many devices ladening us down with apps, having a remote is refreshing and makes the lights more accessible to t

hose without smartphones.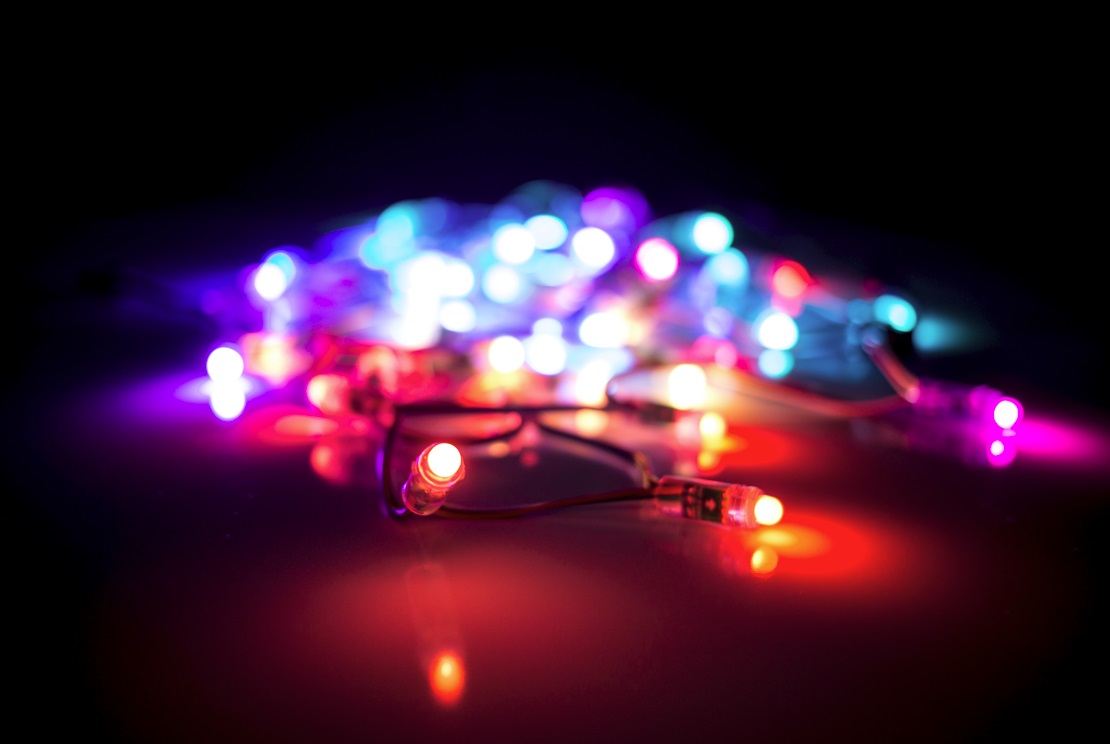 Pros: 




Indoor/outdoor




Sync together for up to 10 units




16 million colour options




Select 1-4 colours




Select patterns and transitions




Smooth transitions




Randomises cycle within pattern




Can set speed and brightness




Versatile festive decoration





Cons:




Would be easier to control the settings via an app





5/5



HypnoSquare




$100
Essentially a framed version of the HypnoLight or HypnoCube, the HypnoSquare uses the same technology to produce a decorative goodie that can sit easily anywhere in your home. I can see these being great in shops, parties, as accessories whilst DJing, or even as fun day-to-day décor. I'd have loved one of these in my room when I was a teenager, and it would be amazing for a gaming room, for example.





The general logic of the HypnoSquare is the same as the HypnoLights: programmable colours and transitions, with a huge variety of patterns. As with the HypnoLights, you can select which pattern style you would like, as well as selecting from over ten transition effects and picking speed and brightness: then, within these selections, the HypnoSquare will randomise so that you're never watching a static, repeating cycle.





Reading through the stats and info for the HypnoSquare, I was struck by how much coding seems to have gone in to making this much customization and randomisation possible. Luckily, you don't need to worry about that – the user interface is easy to control with three buttons at the back that cycle through your options, and you can make more complex changes by connecting it to a computer by USB. The states of these options are different to the HynoLights: for example, you have 50+ distinct patterns rather than 30+, with 10+ distinct transitions. It can display over

6500 frames per second, which makes its colour transitions so smooth, and has some basic internal memory that prevents it from repeating the same cycle after you even after you power it off and on again.





The HypnoSquare still has a wide range of colours, though not as broad as the HypnoLight. In its standing frame, it makes a fun and unique decoration. I would have liked either a remote or an app to make its settings controllable remotely, so it doesn't need to be interrupted to be altered, but apart from that, this is a really fun and easy to use product.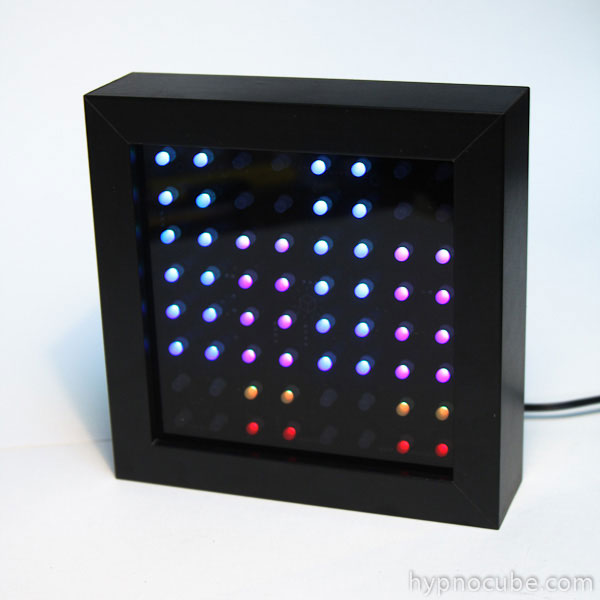 Pros: 




Selectable colours, brightness, speed




Select patterns and transitions




Can program exact shapes and images (trickier, but possible)




Randomises cycle within pattern




Smooth and engaging to watch




Fun house decoration





Cons:




Colour range not as near-infinite as the HynoLights




Options would be easier to set with a remote or app





4.5/5





HypnoCube 4Cube




$120
Where it all began, the HypnoCube 4Cube is the company's first product, and it remains their most popular. There is also an 8Cube, which is double the size, but the 4Cube is the perfect scale for sitting on your desk as a curious and always-engaging source of light and decoration.





The first thing I noticed about the 4Cube was that, whilst the lights inside do indeed form a cube network, the plastic casing around them doesn't. I'm the sort of person who finds that distracting, but in actuality, when you're using the 4Cube, that protective outer casing isn't what you're looking at – it's the lights inside.





The HypnoCube lights carry the same basic stats as the HypnoSquare, but now stand in a 3D cube formation. Like the Square, they don't quite have the HypnoLight's incredible range, and unlike both products, the exact colours aren't selectable in the same way: instead, you simply cycle through the available 51 visualisations and 10+ transition effects, select what you like, and set it going. In many ways, that's all you need from the HypnoCube – it's so visually stunning in its own right that I don't want to micromanage it too much – I just want to select the vibe I fancy and set it going.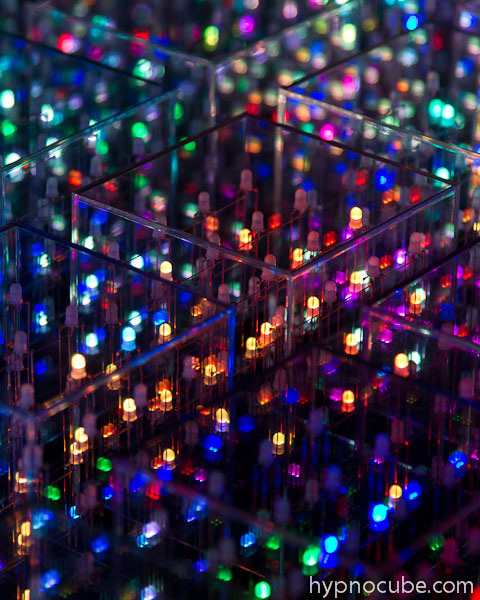 Pros:




Unique lamp/piece of décor




Smooth transitions and engaging patterns




Set patterns, brightness, speed





Cons:




Not as customisable as the other two





4.5/5





Overall, Hypnocube has produced a fantastic range of trippy products to keep us lumophiles entranced. Each product has its highlights – it's a matter of what works best for you and your light-tripping needs!