Kano PC 
kano.me 
£299 
 
We've had the pleasure of reviewing several products from Kano in the past – headphones, a mouse, a webcam, a keyboard...Basically, every accessory a computer needs. Now, at last, we've tried the computer itself. 
 
Make no mistake: this is not a gimmicky toy, but a fully functioning touchscreen PC laptop! Running with Windows 10, this laptop has 4GB of RAM, 64 GB eMMC of storage, and uses an Intel® Celeron® N4000 Processor. It's no gaming computer, but those are still good stats! It has a battery life of 8 hours. It's better than any computer I ever used as a kid – frankly, it's better than my laptop was during university. Already, that's insane value for money, but there's more. 
 
Every Kano product looks colourful and inviting, and has been designed to display some of how it works: for example, the Kano Mouse and Keyboard have clear plastic backs or sides that display their internal wiring, and the Kano PC is the same. For all of these products, there's another learning opportunity, too: they're buildable.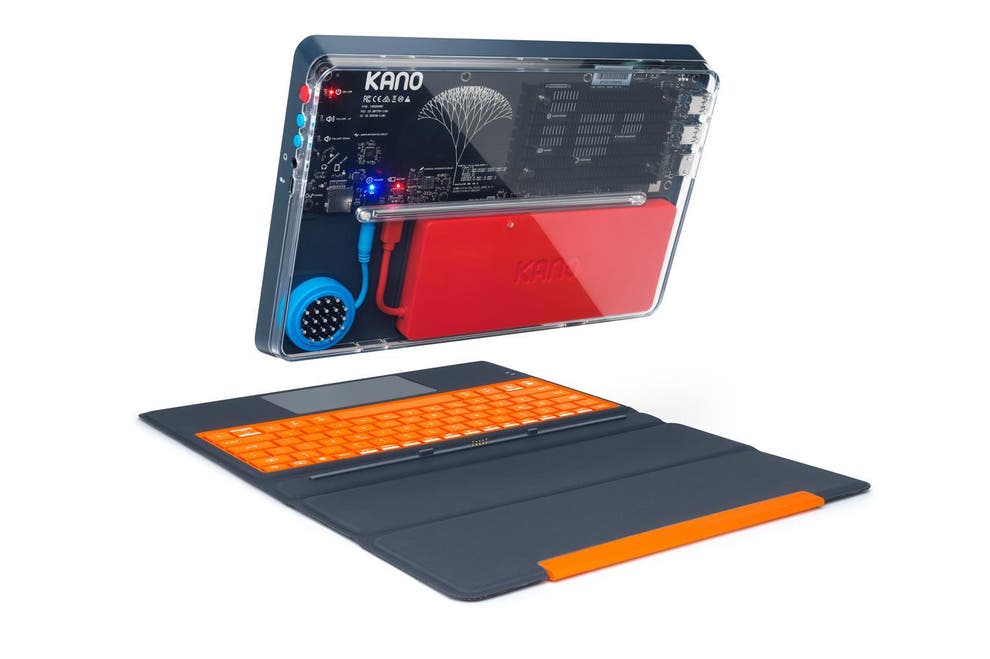 This sounds like a much bigger task than it is. One of our adult reviewers was able to construct a Kano PC on their own in just three minutes. Of course, building them with a child takes longer, and that's how it should be. The Kano PC came in a few straight forward pieces – there was no soldering or wiring, no big mess or any way for the build to be dangerous. The core elements of the PC's gubbins plug in via USB and jack ports, but it serves as a fantastic introduction to the idea of computers being made out of many parts, and this being buildable and modifiable. It also gives your kid the joy of screwing together their own computer, and the sense of ownership and empowerment that 'I made this' emotion brings. 
 
The STEM learning (science, technology, engineering & mathematics) doesn't stop there, though. As well as empowering your child in the direction of creating computer hardware, Kano has built a detailed online workshop that boots with the PC that teaches your child coding through a series of games.
 

Now, there are a lot of coding toys and games on the market, but Kano aren't messing around. This isn't simply telling a robotic dog to turn left, right and sit down: this is CODING. I sat and playing some of the games myself, and I could feel the fans in my brain starting to pick up speed. My housemate is forever coding (she makes indie video games from our joint home office) and I look at what she's working on like it's extremely logical nonsense. However, as I played through these games, I started to gain a better understanding for what she does all day – it taught me not only the basics of the 'If X, they Y' thought process, but visualised them as puzzle pieces that could be built up together in different ways, colour coded into functions. It made it extremely accessible, and even better, there are guided tutorials, games and challenges to show you what these different 'blocks' do. Next thing you know, you're absorbing what they mean and how they work! Once you're at that stage, it's time to play with the sandbox mode, where you could program an animation, drawing or whatever function you felt like (within limits, of course. 
 
There are a huge number of games to work through, and all have a recorded video guide talking you through it. As Halloween's coming up, I had a go at building the Haunted House animation, and I think my brain grew three sizes in the process.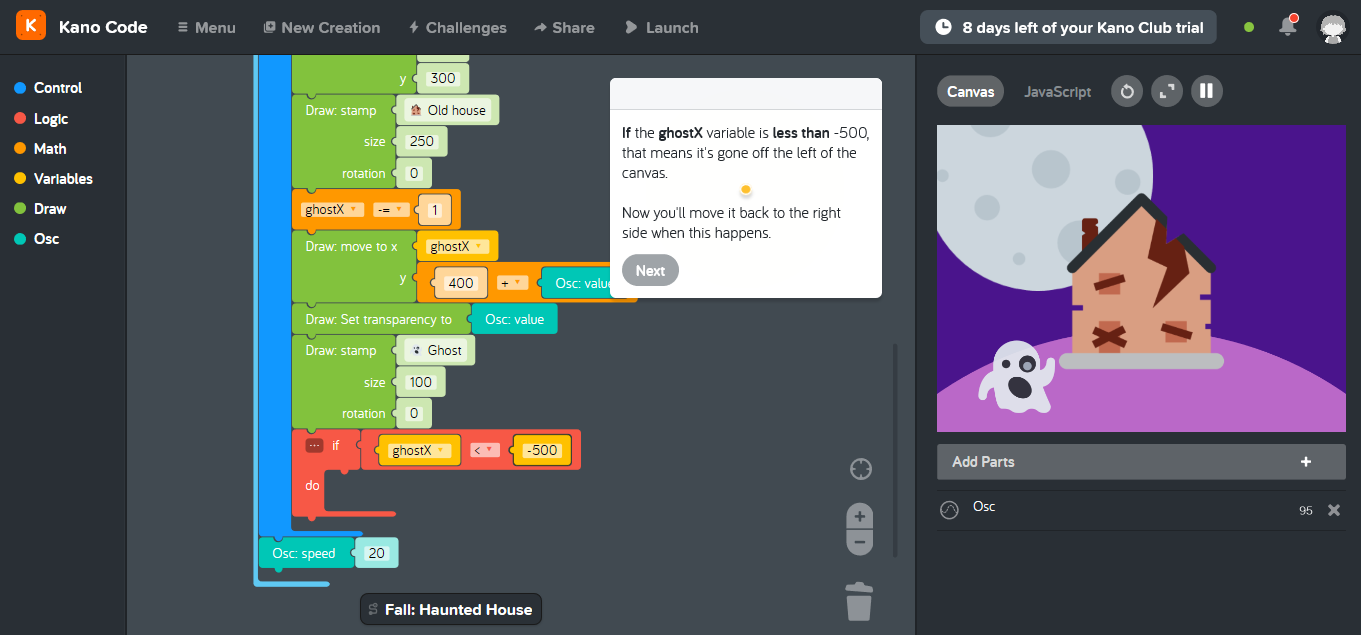 As well as all of this coding content, the computer is ever set up to teach kids how it works – a screen pops up when the computer is booted that takes you to a Kano-made series of windows that explain every area of what makes a computer run, again in colourful, kid-friendly ways. Lastly, because this has been made for kids, it's been made to be safe – for example, your child can't get onto Kano's online workshops without you giving permission via email, and there are child safety measures integrated into what they can and can't visit online.

All in all, this is an insanely good product. I've seen comments online of young teens saying they want a Kano laptop because of its enviable stats-to-price ratio! You get that and a lot more, and it teaches fantastic lessons for your kids. Frankly, I think I could benefit from playing more of the games myself.

5/5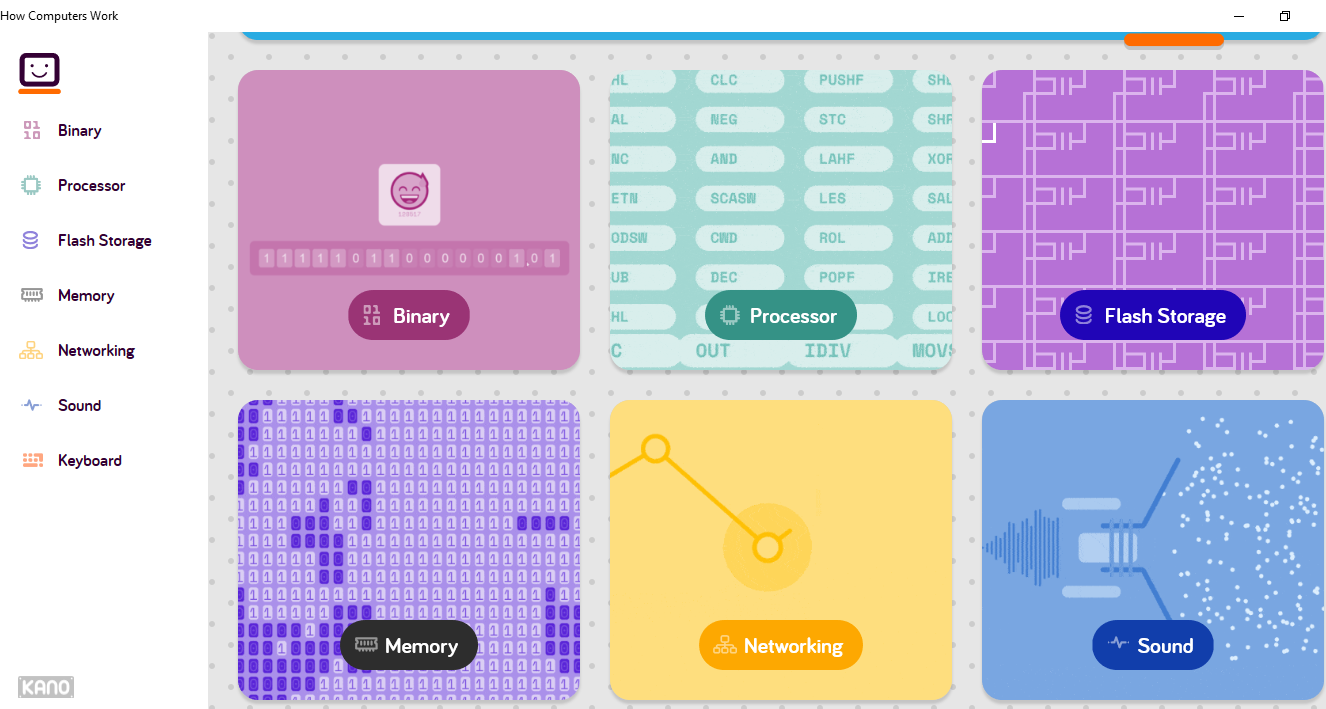 Pros: 
Touchscreen 
Screen detaches into tablet 
Windows 10 
Intel® Celeron® N4000 Processor 
RAM: 4 GB / Storage: 64 GB eMMC 
8 hours battery life 
Child-friendly 
Buildable 
Instructions with pictures 
Teaches kids coding 
Teaches about computers