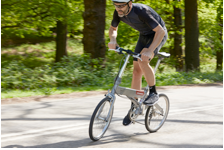 This month the UK sees the launch of Crosshead's new compact folding bike range.A release that isunrivalled in technical design, spec and high-performance engineering.
 The hand-built folding bike range is the creation of cycling enthusiast and designer Stuart Lambert. During a trip to Bruges, he purchased his first folding bike and found that it lacked something in comparison to full-sized road bikes. Upon returning, and trying several others, he realised that they commonly had performance issues and simply didn't ride that well.
Stuart decided there was the opportunity to create a compact folding bike that prioritised performance. He then set about designing and developing a unique range of products that offered great form, without compromising function for everyday use. Eight years later and the Crosshead range and is now ready for market, with the Crosshead Sport model being the first to release.
The sport model features unique patented Z-fold technology, ten gears, a full sized aluminium frame geometry, 20inch wheels and integrated hinges. These internally housed mechanisms complement the aerofoil design to offer a streamlined and modernised folding frame. The front and rear wheels fold towards each other and can be folded and unfolded in under 20 seconds.
 Other bikes in the range include the All-Terrain, Tour and Race – all of which are available for pre-order.These products are designed, engineered and manufactured in the UK and use locally sourced parts. Crosshead is destined to become the most in-demand industry leader for the smartest of urban and rural individuals alike.
Commenting on the launch, Crosshead Founder Stuart Lambert said: "We are thrilled to be finally launching our bikes to the UK market at such an exciting stage in the brand's development. We realised there was a gap in the market and knew we could create something that performs better.
"Our aim was to prioritise performance, comfort and convenience for everyday use. They are carefully engineered products – beautifully designed, good to look at and easy to use. We are very much looking forward to driving widespread awareness across target markets."
A unique combination of a contemporary design and an ergonomically correct fit gives cyclists the freedom to ride with ultimate confidence. The Crossheadrangeis not only sturdy enough for rigorous leisure-based activities but can also fold down small enough to be taken on trains, put in the boot of a car and stored easily at work or at home. 
The Crosshead brand is continuously developing and is one to watch for 2018 and beyond. The British bike company will look to roll out more bespoke and cutting-edge innovations that will undoubtedly raise the bar, helping them to cement their place as industry leaders.
Available online at https://www.crosshead.co.uk/
Prices range from: £1,800.00 – £2,700.00