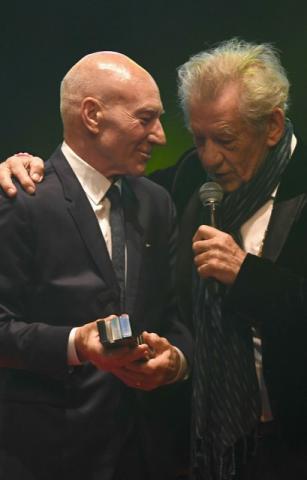 Bauer Media today announced Rakuten TV, the video-on-demand service, as the exclusive headline sponsor of its annual EMPIRE Awards ceremony taking place in London's Roundhouse on 18 March 2018.

As a key player in the film streaming sector in Europe, Rakuten TV hopes to bring its brand closer to EMPIRE's loyal readers who have a passion for cinema and television. Rakuten TV is the home of great cinema and lets users watch the latest movie releases in the comfort of their own homes in just a few clicks.

The company's motto 'Your Cinema at Home' articulates its ethos: to bring the best cinematic experience into people's houses, giving them the possibility to enjoy the latest blockbuster film releases soon after they have appeared in cinemas. Rakuten TV is pushing its 4K HDR catalogue across its Smart TV manufacturers partners to provide the best cinematic experience at home in all 12 European countries where it operates.

 The multi-platform campaign with EMPIRE will drive awareness of Rakuten TV and its 'Your cinema at home' proposition. The campaign will span all of EMPIRE'S touchpoints, including; EMPIRE magazine, tablet, online, social and podcast, reaching more than four million consumers.

There will be Rakuten TV branded editorial content in the magazine including red carpet interviews, as well as social activity using the hashtag #RakutenTVEmpireAwards to bring the partnership to life. At the event itself, as well as being the headline sponsor, Rakuten TV will also sponsor three awards – Best Actress, Best Actor and one special award set to be announced on the night. In addition, there will be a multi-platform advertising campaign supporting the partnership.

Abby Carvosso, Group MD, Bauer Advertising, said: "We are so excited to partner with Rakuten TV. The EMPIRE Awards has a great heritage and is a highly influential film event with world-class movie talent in attendance who are keen to receive these reader-voted film awards. This means the event attracts an enormous value of press coverage celebrating the awards and its winners. This deeply integrated content partnership will mean Rakuten TV are able to reach film fans across the UK."

Jacinto Roca, CEO and founder at Rakuten TV, said: "EMPIRE magazine offers an exclusive and exciting insight into the world of film and entertainment, as well as reaching a highly engaged and passionate audience, making the awards a perfect fit for us. Our endeavour is to always provide the latest films in the highest quality and to make Rakuten TV 'Your Cinema at home'. Therefore, the reach and awareness from the event will be instrumental in our marketing strategy."
"We believe in cinema and we believe that people who love cinema should be able to find their favourite movies more easily:  they don't understand why they have to wait three to four months before having the possibility of enjoying their favourite movies at home. 'With 4KHDR technology and Smart TVs reaching a size and quality in visual and audio which can create a proper cinematic experience, cinema has its second life now: and this is within people's homes.  Cinema is not a screen anymore: it is a seamless formula of great movies and a great experience. We are eager to provide this experience to our customers from the comfort of their sofas."

Rakuten TV is a European company part of the Japanese tech company Rakuten. Founded as Wuaki in 2009 - and recently rebranded in July 2017 - the platform distributes content from main Hollywood Studios and European distributors and will launch this year its first project of original content in Spain and UK.

 This campaign is a result of a direct relationship between Bauer Media and Rakuten TV. The 22nd Rakuten TV Empire Awards will take place at the Roundhouse in Camden on March 18, 2018.

To celebrate the Empire Awards sponsorship, the best selection of nominated films will be available to watch on Rakuten TV.