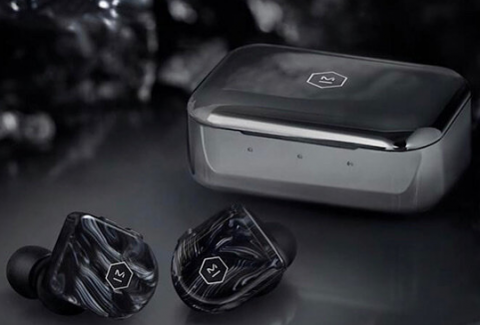 Master & Dynamic MW07 Plus
Something that distinguishes a good product from a great product is the added extras:  alongside the MW07 earbuds are: a charging case, interchangeable silicone fittings, a charger, USB adapter, a carrying case and a quick start guide to the product. The sound quality of these headphones is far superior to any ear buds I have tried previously, the lows, mids, and highs are perfectly balanced, delivering a crystal-clear sound, which, coupled up with the noise cancelling option, performs exceptionally well. If digging through your pockets to adjust the volume is too tiresome for you, you can access volume control on top of the left earbud, and a button on the right to pause and skip music. The earphones come in a polished stainless steel case that looks and feels of very high quality, in which you can charge the ear buds as well as store them when they're not being used. The battery of the earbuds alone will last 10 hours, and the case has the capacity to charge them up 3 times, so if both the earbuds and the case are fully charged you could have a whopping 40 hours of playtime. As beautiful as the case is, just be warned that it is also very likely to be covered in fingerprints after every use. The earbuds are waterproof and have an IP rating of 5, this is brilliant protection against nasty weather other earbuds may struggle with.
Personally, I have rarely got on with headphones as I have always found them uncomfortable, these are some of the first I've come across that fit nice and tightly in my ear without causing any discomfort, thanks to all of the added silicone fittings that are included so you can find the perfect fit. As well as being adjustable to fit, the MW07s also offer four different colours and designs to suit your needs.
I am yet to be disappointed with any of Master & Dynamics products and these earbuds are no different, with huge battery life, beautiful design and amazing sound quality these might be something of interest to some of you audio freaks - just bear in mind if you love them as much as I do, being a high-end product they will set you back around $299 (£232)
RRP £232
Website: https://www.masterdynamic.com/products/mw07-plus-true-wireless-earphones
Pros: Exceptional sound quality
Huge battery life
Beautiful design
Cons: You cannot use whilst charging,
Rating 5 out of 5
Following on from the review of the MW07 plus, a more affordable alternative is the MW07 Go, these earbuds are very similar to the MW07 Plus but are directed for the more active audience. The earbuds themselves are slightly lighter and smaller than the MW07 plus and use a lighter charging case that is less likely to get scratched due to its woven material. The charging case for the go has a charging capacity of an additional 12 hours and the earbuds have a battery life of 10 hours. Retailing at $199.99 (£155) the MW70 Go's are $100 cheaper than the Plus so if you want the same exceptional sound quality as the Plus without the added features these are the ones to go for!