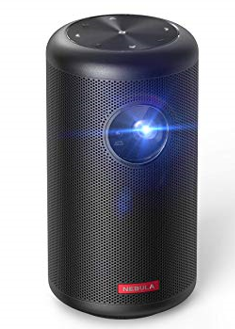 The Nebula Capsule 2 by Anker is a small and portable projector. You can connect to this device via auxiliary, HDMI, Bluetooth, wifi, USB and USBc. The Nebula Capsule 2 can project images from 20, all the way up to 100 inches away without struggling. I was very impressed at the auto focus and how quickly it will sort itself when moving the unit around. The device also compensates very well for any tilt the device or the surface you're projecting onto has. Something that makes the Nebula capsule stand out from the rest is its ability to play media independently, meaning you don't necessarily have to connect any other devices to access media. The Capsule 2 has an array of streaming platforms to choose from which are located on the home screen, ready to download at the tap of a button, these include YouTube, Netflix, Spotify and many more which essentially makes the Capsule 2 a portable smart TV not much bigger than a Coke can.
As well as projecting a crystal clear 720p image, the Capsule 2 also has high quality 360-degree audio which can also double down as a Bluetooth speaker if you wish to play audio exclusively. The projector can be placed a minimum of 23 inches and a maximum of 121 inches away from the surface you're projecting onto while its optimal range, being between 40 and 80 inches. Obviously the further you take the device, the darker and softer the image gets but as long as you're in a nice dark room the Capsule 2 should perform excellently. I found the battery to last around 2 hours 40 minutes which is more than enough time to watch a film without the need for additional charging, when the Capsule 2 dies, simply plug it in via the USBc and wait approximately 2 hours for a full battery, and if this is too long of a wait you can use the device while its charging.
Upon testing the product I was finding the touch controls on the top of the device rather sensitive which can be frustrating at times, luckily the Capsule 2 comes with a remote control and has the option to connect to your mobile phone if you'd prefer to use the Nebula Connect app to make the interface that much more manageable.
Overall I am extremely impressed with this little projector, the fact you can just turn it on as and when you need it, with no need for additional support from other devices is ground breaking and something I definitely haven't seen before, this paired with the built in speakers means you will need no additional hardware.
RRP: £450
Website: https://www.anker.com/store/capsule-ii/D2421J11
Pros: Extremely portable, excellent picture and audio, no need for other hardware, fast processing and overall brilliant experience
Cons: Pricey but amazing, love this product
Rating 5 out of 5