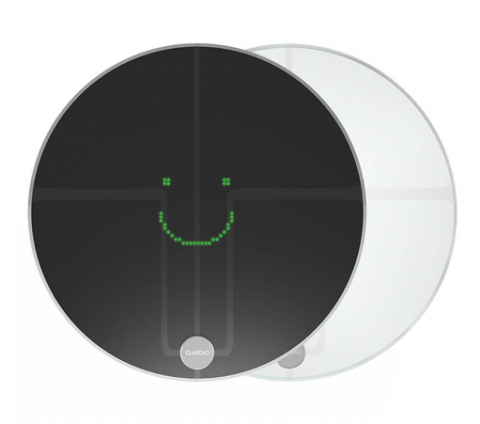 Scales are smarter than ever with the QardioBase 2. This wireless 'body analyser' functions as a traditional set of scales, plus a wide range of settings and features all pulled together in a flat, sleek design that will look good in your bathroom or home gym.
With this Smart Scale, you can track not only your weight, but your BMI and body composition (body fat %, muscle, water and bone mass). To make things easy, it links up with a corresponding Qardio app, through which you can view analytical graphs and charts to show your health and progress, and you can even set goals and reminders to keep you on track. The scale also syncs with the popular MyFitnessPal app, which allows you to plan and monitor your diet. Using this app and the Qardio app in conjunction will help you to not only understand your progress, but to plan how to work on it. However, as a detailed diet monitoring app, MyFitnessPal has led some people to obsessive calorie counting, so when pairing this app with a set of Smart Scales, go in aware.

On that topic, one of this scale's 'smart modes' involves showing your progress with simple happy, neutral or sad smiley faces. This is an option that can replace readings in traditional kg or lbs, to give you a quick reminder of where you are compared to where you were. Personally, I can't think of anything worse than a set of scales that displays a sad face at me! However, the QardioBase team put thought into the feature, reasoning that number-watching can become psychologically harmful for some people – especially when new goals can become addictive, or normal daily fluctuations are dwelt upon too greatly. Instead, the option of this 'smart mode' summerises whether or not the user has moved closer to their set goal, and removes a potential source of stress. Another helpful feature is the pregnancy mode, which allows expecting mothers to track their weekly progress.
The QardioBase 2 is compatible with iOS 9.0 or later, Kindle, Android 5 or later, Android Wear and Apple Watch. This sleek set of scales offers far more than a traditional set, some of which I would want, and some I wouldn't. However, smart scales are a valuable tool if used responsibly, and QadioBase 2 has a range of easy-to-understand insights that can help you to maintain your health.


£129.99
www.getqardio.com

Pros:
Weight, BMI and Body Composition readings
Weight available in kg or lbs
Pregnancy mode
Supporting app
Data is easy to read
 
4/5