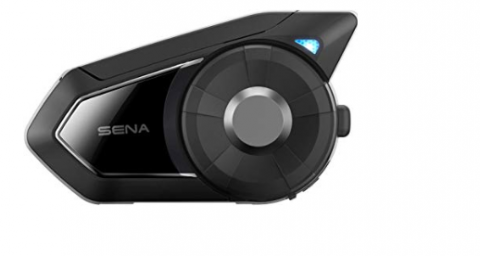 www.sena.com/
Dual kit RRP £499.00
Sena are a very innovative company that are arguably leading the charge in motorcycle communications.
This Sena Intercom unit just feels classy from the off. It is sturdy and easy to link and work with.  Once you start to explore the possibilities of this small but mighty unit you realise where your purchase money has gone, it's immense. First it is easy to fit to your helmet and is very secure. It is easy to navigate the controls and the audio is clear, crisp and loud. Simply press the top button and you're instantly connected to a virtually limitless amount of 30K users within a mile range.  To stress the fact that in Open Mesh you can communicate with a virtually limitless number of riders, amazing.  The intercom connections are very stable. When one of your group goes out of range, the rest of the group remains seamlessly connected while the 30K intelligently searches for the lost connection and reconnects automatically once back in range. With private mode you can invite and communicate with up to 16 riders at a range of up to 2.0 km (1.2 miles), while an endless amount of 'Guests' can join to listen in as well. When riding with 5 or more riders, the Mesh Intercom will intelligently keep the group connected at a range of up to 8 km (5 miles).
The 30K has a new quick-charge feature meaning just 20 minutes of charging gets riders an impressive 5 hours of Bluetooth intercom use, or 3 hours' Mesh Intercom use. With its revolutionary dual-antenna, riders may now simultaneously use all of the features of the 30K, such as Mesh Intercom and Bluetooth intercom. Once you're on the road, complete control of the 30K can be done through hands-free voice commands. Intuitive technology ensures safe, controlled riding as you seamlessly move through music, phone, and intercom features. Needless to say but the unit is water resistant and interestingly is compatible with Sena's optional Handlebar Remote control as well as all of the 20S clamp accessories. Sena 30K Audio Multitasking technology allows you to have a conversation via Mesh Intercom technology while simultaneously operating Bluetooth operations such as streaming smartphone music, taking or making phone calls, or listening to turn-by-turn GPS navigation. No longer do users have to deal with the frustrations of interruption-based audio functions of past Bluetooth communication devices. Now audio features won't interrupt one another but simply overlay for a smooth listening experience.
4.5 out of 5
Pros
One of the best
Very innovative
Huge range
Quick charging
Well made
Cons
The price, but they are incredible and last a long time. Divide price by the years of use and they work out great value.