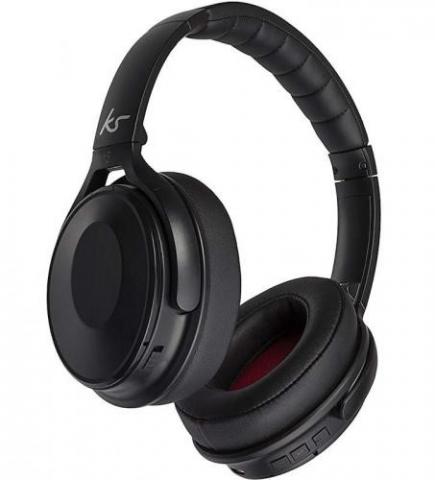 If you're on the lookout for a good quality pair of wireless headphones without breaking the bank, then the KS Immerse Headphones might be just the thing you're searching for. True to their name, the Immerse strive to provide a totally absorptive experience for the listener, with Active Noise Cancelling (ANC) technology that counteracts the background din with opposing soundwaves; a notable achievement indeed, considering that most ANC headphones are considerably more expensive.  
As well as boasting impressive technology for their price, the Immerse are also very comfortable to wear, with memory foam earcups and a faux leather cushioning. Although the Immerse might appear to be slightly flimsy, they remain in place fairly well, and are also foldable for your convenience. In terms of appearance, I was a big fan of the Immerse's classically understated design and packaging- a refreshing change from its garishly coloured counterparts that have saturated the market.  
The Immerse are straightforward to set up and use- with on-ear track controls and a built-in mic. The play time lasts up to 12 hours, although with the ANC turned on this is more like 8 hours. Either way, a more than respectable length of time. One issue, however, is that that the absence of a sleep or a power-saving mode means that the battery could be lasting a lot longer than it currently does. 
I was very happy with the sound quality of the Immerse headphones- the audio is expansive, clear and remains generally undistorted even at louder volumes, with only slight detail definition lacking at times. I found that the ANC technology worked very well in most environments, although not quite so effectively in especially loud or busy surroundings.  
The Immerse remain a great choice for those listeners looking for a day to day pair of headphones on a budget!  
£60.00  
4 Stars
Pros 
Cost-effective  

Long battery life 

ANC technology  

Easy to use control 

Great value
Cons 
No power saving mode

Slightly lacking audio definition