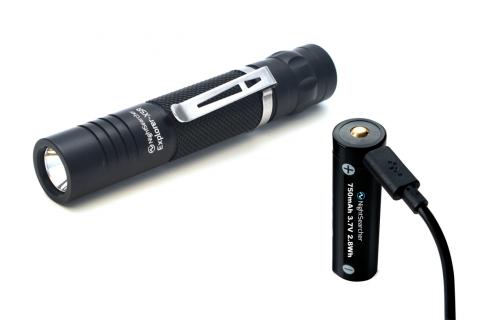 Night Searcher Explorer-XSR

The Explorer-XSR is a small and nifty torch with a lightweight body and a high, clear beam. The box advertises 400 lumens and 35 hours' runtime, but these are unfortunately not possible at the same time. (Can you imagine?!) It isn't immediately obvious how to switch between light settings, but you need to double-press the on/off button at the end. The torch's three settings are an extremely bright, crisp 400 lumens beam which shines up to 100 metres and lasts for one hour, or two dramatically dimmer beams at 40 lumens for five hours and 20 metres, or 10 lumens for 35 hours and 10 metres.
At full beam, this torch provides a small but clear area of light. I would say this torch is better for lighting a task than going for a walk; although it doesn't light up much space around you, it does illuminate your point of focus extremely well. It would be perfect for doing repairs in a dark space or at night, or pretending you're a cop investigating a crime scene. (It is a lot of fun to turn on dramatically and hold at cop-like angles, thanks in part to its lightweight build and comfortable fit in your hand).
The aluminum casing is shock resistant up to a one-metre drop, and it feels hardy whilst effortless to hold. The torch is small, making it convenient to pop in your pocket or attach using the stainlesssteel pocket/belt clip.
The Explorer-XSR comes with a battery that is rechargeable via USB point. I've never seen a micro-USB point on a battery before, but it was extremely convenient, and only takes two and a half hours for a full charge. The USB factor makes this torch far easier to charge on the go.

I wouldn't recommend this torch for strolls down unlit country lanes, but if you need something that's easy to pack and carry around with you to assist with tasks and finding lost items, the Explorer-XSR is a perfect, reliable little thing.
4.5/5
£29.95

Pros:
400 Lumens
35 hours' runtime
100 metre beam
Rechargeable battery with USB slot
IPX8 rating
Comfortable to hold
Small and easy to carry around

Cons:
No wide beam – less suitable for walks