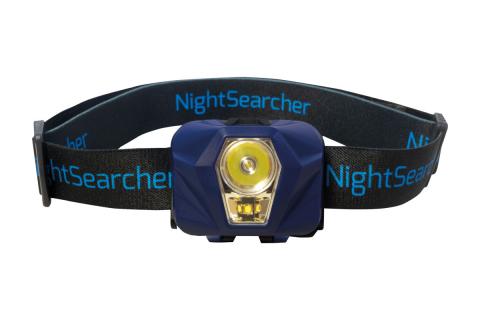 Nightsearcher Headstar

The Headstar is a handy head torch with three settings: a narrow beam, a wide beam, and a boost beam, which shines both the narrow and wide light at once. This head torch kicks out up to 330 lumens of light, and has up to seven hours of runtime, depending on what setting you use: on the wide beam, you have 187 lumens for seven hours, with a beam of up to 37 metres. On a narrow beam, the strength and reach are far greater at 225 lumens and 120 metres for six hours. However, the Headstar's special feature, the Boost mode, combines both, resulting in 330 lumens of light and 130 metres' reach for five hours.

This head torch is extremely bright and clear. It's advertised as attaching around a hard hat or other hat, and this is probably when it's at its best, as it isn't super-cozy to wear directly on your head. It comes with a rechargeable battery that only takes two hours to fully charge, and it remembers your previous brightness level and returns to it when it's next turned on. It's an extremely functional, impressive head torch that will light your way brilliantly on a walk at night, and is suitable whatever the weather. If it's nippy out, you might want to consider the other product from NightSearcher that we reviewed. However, the Headstar is more powerful than the Beanie X, and also more versatile in terms of temperature.
4/5
£39.95

Pros:
330 Lumens
7 hours' runtime
130 metres
Ipx4 rating
Narrow and wide beam
Boost mode – combines narrow and wide beam
2-hour recharge time

Cons:
No dimmer battery-saver modes
Not as cozy at the Beanie X