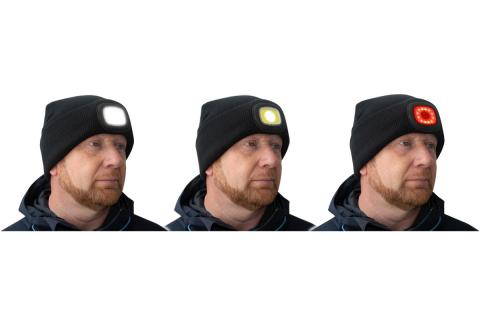 Beanie X
The Beanie X is a rechargeable LED head torch built into a beanie, and as both a torch and a beanie, it's fantastic. The first thing I noticed when testing the Beanie X is that the narrow beam setting is extremely bright, at 200 lumens. (Don't look directly into it when you first turn it on!) The six settings are easy to click through: in total, there's a narrow beam, a high, medium and low wide beam, and a flashing or steady red beam.
The beanie makes use of the torch effortless. On a narrow beam, the light is naturally directed wherever you're looking in a 25-metre beam, and has enough of an ambient beam around it that you're not just squinting at a small point of light. The wide beam doesn't reach as far, but really does brighten the area you're in, like you have a natural orb of light around you. We took the beanie for a test run in some of the creepier parts of our building before the sun came up, and having this wide setting instantly made everything far less eerie.

The beanie itself is seriously warm and comfy, and the torch isn't a bother on your head at all. It makes a huge difference on a cold day: with this snugly down over your ears, your head warms up in no time.

This product is also extremely practical. The torch is easy to remove, which allows for the torch to be charged and the hat to be washed. The torch comes with a USB attachment, which means you can plug it into any USB point to charge it. It takes four hours to get a full charge, and the torch can shine for up to four hours on the red or narrow high beam; two and a half hours on wide high beam, five and a half hours on wide medium beam; ten hours on wide low beam. As for an emergency, the red light can flash for six and a half hours, which gives you plenty of time to be found should something happen.
Often, I find that combo items are a so-so example of both, but the Beanie X is a bright, clear torch and a warm, comfortable hat. If you have to tackle the cold and the dark, whether it's to do work or walk the dog, you're going to want this on your head.
£16.95
5/5
Pros:
Warm, comfortable beanie
Six different settings
Strong beam
No discomfort from torch
Easy to charge and wash
iIP65 rating
Cons:
No strength reduction on the narrow beam