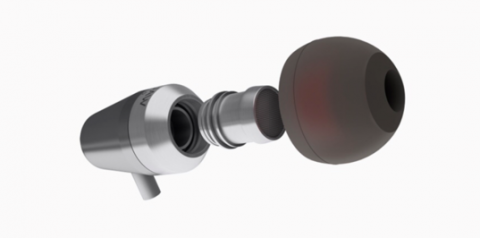 £34.95 with inline mic, £29.95 without mic
These earphones arrived in a neat little package I couldn't wait to give them a test run! Slide out the drawer and you find an assortment of tips, tuning filters, and a handy wee pouch to carry them in, should you feel like a quick tuning change on the go!  
I really like the solid feel - not just the aesthetics - of these earphones. They feel nicely engineered, reassuring as you switch up the interchangeable filters, which were easily unscrewed with my little fingers, and they really do accentuate the frequencies, as claimed. The gold inserts are for 'neutral' listening, so if you have eclectic music taste like me, these would be your go-to; the black are spot-on for higher frequencies (classical, or jazz music listeners, note!); the silver accentuate the lows of rock or electronic music. Not only do these optimise the sound, at this reasonable price a little extra gadgetry is an absolute steal. For gadget lovers and those with more particular or discerning taste, these would be a good purchase. You really can customise the sound to your music of choice at the time.
The cable felt a bit chunky compared to my own, which drapes behind my neck indiscernibly, this is a little heavier and presumably more durable, which can only be a good thing if like me you enjoy your music on the go.
Pros
Three pairs of inserts to fine tune your sound
Very reasonably priced
Look good
Fun gadgetry
Cons
Too many ear tips, if that is a negative?
4 out of 5