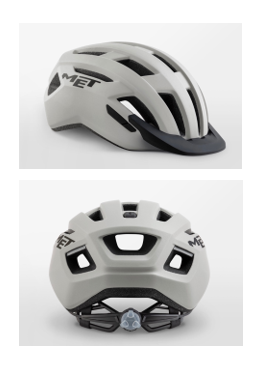 I love my bikes. But unlike many cyclists what I don't love is a house full of cycling accessories!
I was lucky to enjoy a commute that incorporated smooth tarmac, dense woodland and a mile or so of loose disused railway track; depending on which bike I took, (which was by no means down to preference but rather selected in haste according whichever was nearest the front door at the time) I'd either enjoy a slick and swift road section followed by a hair-raising off-road finale, or a relatively sluggish road section with a grin-inducing home straight! While the contrast in headwear wasn't quite so distinct, I recognise in the Allroad what would have been the perfect crossover helmet.
Just as the name suggests, this helmet adapts to suit both road commutes and more active leisure rides. When off-road, the visor (black on all models) snaps neatly into the vents, providing adequate shade; when removed for road use, the helmet looks and feels clean, sleek, and built for purpose, with no stray fixtures. The visor flexes just enough to detach easily, and is robust enough not to break in transit. The Allroad is not just about aesthetics, road safety is clearly prioritised, with the visor detached, not only does it offer good visibility of the road, but with small reflective strips as well as a neatly integrated LED rear light with flash mode, this helmet also ensures that you are seen ON the road. While the vent size and 'ponytail-friendly' open rear guarantee comfort, they will not provide the greater protection against debris of an MTB helmet for example, so although I would recommend a fuller helmet for trails, this will certainly keep you protected both on the road and on slightly looser ground, so it is ideal for most leisure rides and commutes.
As we have come to expect from Italian design, MET helmets are not only very easy on the eye, but built for comfort. This helmet is notably lightweight – the medium (56-58cm) weighs just 265g – and like all their models, is compatible with MET's DualGel padding, which, combined with Safe-T Duo adjustment, ensures a cool and super-comfortable fit.
With an RRP of £70 (or €70) this helmet will have mass appeal to road cyclists who enjoy the occasional, leisurely off-road ride. For those tending towards either end of the spectrum, whether you're seeking fuller head coverage or ultra-aerodynamics, the Allroad may not be for you, but MET can certainly deliver!
The Allroad comes in 6 colour options: Matt White; Matt Grey; Matt Black; Matt Safety Yellow; Matt Black/Cyan; Matt Black/Red, and three sizes (S 52-56cm; M 56-58cm; L 58-61cm), while the 360° adjustment ensures a supremely comfortable, niggle-free fit.
Pros:
Lightweight and comfortable
Compatible with DualGel padding
Road safety features
Cons:
Visor is completely removable – I would misplace it in weeks!
4 out of 5 stars