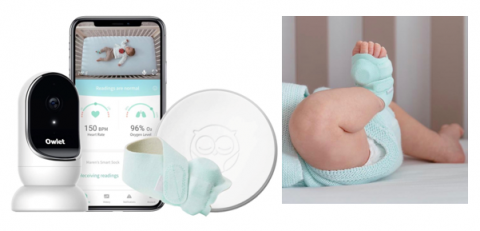 owletbabycare.co.uk
Owlet Cam £149
Owlet Cam and Smart Sock Bundle £379
Bringing your newborn home and daring to take a step out of the same room is an enormous leap of faith for new parents, for me the need for reassurance is constant. But having a baby monitor that you watch with the same obsession as you watch your newborn gives little opportunity for all-important rest.
The Owlet bundle combines a base station, a cute-looking little camera, with a neat wall mount and cable guards, that relays audio and video directly to my phone using the New Owlet App, with a 'smart sock', the likes of which I'd never seen before. The pack comes with three 'socks', which fit babies from 6lbs to 25lbs. Unlike an ordinary baby sock, these wrap snugly and comfortably - comfortingly, even - around baby's foot and so far hasn't wriggled loose once! The sock, which is BPA-free, latex-free, and lead-free, uses pulse oximetry to record baby's temperature and oxygen levels. Meanwhile the camera monitors room temperature, and all this info is relayed to both the base station and my phone. Now here's the crucial part: I didn't have to keep an eye on my phone or the base station – when either of those measurements went out of range I was notified two ways – the base unit no longer lit green, and notifications came through via the New Owlet App. However if you do need constant reassurance you can sit and watch the real-time video and rates on your phone, so even the most anxious new parent can take a trip to the loo, or fridge, guilt-free.
The audio wasn't perfect but the (HD 1080p) video quality is very good - including night vision - so with a clear visual image combined with the data from the sock, I didn't feel audio was entirely necessary, besides there's nowhere in my house I wouldn't be able to hear my baby cry. I'm not entirely confident streaming footage from within my home, so knowing that it was securely encrypted was again very reassuring.
Do be aware that the sock is by no means a method of diagnosing any health conditions, but it did give me a better understanding of my little one's 'normal', so should his temperature or heart rate stray far from his 'norms', I'd retain that information for better assessment from a health professional.
The app was a little hesitant and quite basic, but I didn't feel it needed any more bells and whistles, it's leaps and bounds ahead of the audio monitor my parents used, and I think I turned out alright!
Pros
Multiple monitoring
Both sock and camera are baby-safe
Good quality, encrypted video
Reassuring, simple app
Cons
Audio not great
4 out of 5 stars