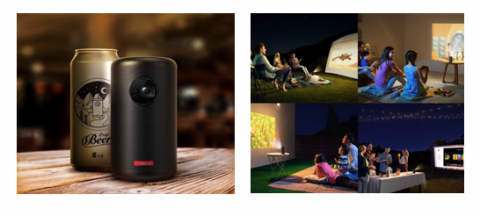 Anker.com
£499.99
Who doesn't love an outdoor cinema? That was the first thing we enthused over when we moved house last summer, only our old projector and makeshift screen didn't cut the mustard, so we resorted to sticking a tv in the treehouse, which somewhat detracted from the romance. Watching your favourite film projected on the wall, canvas, or ceiling – of your chosen home (or garden, or campsite) cinema is so much better.
The first thing I absolutely love about this portable projector is that it is in fact 'smart' – not only is it compact enough to use in pretty much any location of your choosing, the (one-second!) auto focus adjusted to our choice of surface, so there was absolutely no faffing, which for me is enough to ruin any cinematic experience. For such a small device it packs so many punches – with an integrated Android TV, it supports thousands of apps, so you can screen pretty much anything you choose without resorting to your own 'library' of downloads; the 8W speaker comes through crystal clear and is not bass-shy. Being voice-activated, we could leave the projector - untouched - in situ and command the performance in comfort, without distorting the image.
The Capsule II charged in under 3 hours (quick charge via the Anker charger, which came with the Capsule), and projection time was around the same – long enough for most treasure-length films, including the brief set-up time.
The 720 HD resolution to me was absolutely remarkable, although you do all need to be committed to watching in the dark, - in my family we have weekly movie nights, and my daughter will inevitably keep her latest novel by her side in the event the film doesn't draw her in – reading in such darkness isn't an option, so this did prove exclusive. If the image were as clear in a slightly brighter environment, or if the image itself were brighter, we could all sit and enjoy our respective entertainment, together.
On the whole, an all-round favourite, roll on this summer and a garden cinema under the stars!
Pros
Compatible with so many apps!
No-nonsense auto-focus
WiFi/Bluetooth/USB/HDMI
Great image (to 100 inches) & sound quality
Cons
It has to be dark!
4 out of 5 stars