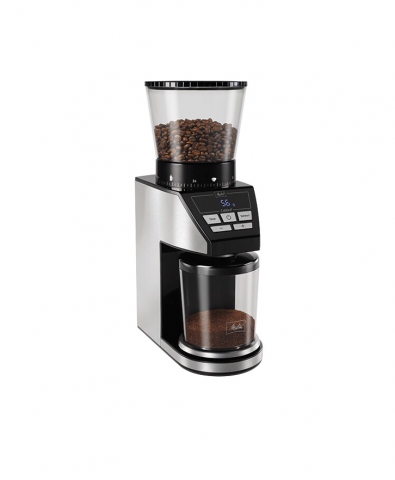 Melitta.co.uk
£124.99
If Italians are discerning about one thing, it's flavour. They understand there is no point buying your favourite coffee beans, or blend of beans, if you can't then grind and infuse them to your own particular taste. With the Calibra, Italian coffee brand Melitta have produced a quality grinder that - with 39 settings - ensures you can fine tune your favourite coffee, to your own idea of perfection, on your worktop.
The Calibra looks functional, rather than overly styled, which I prefer in a kitchen; the 375g-capacity bean container is clear, so you can monitor your coffee stocks, and detaches simply for ease of cleaning, as does the lower container, which takes up to 200g of grounds. It also grinds directly into a filter, so not a single ground is wasted. At 374mm x120mm x 227mm it was small enough to share surface space with all my other coffee paraphernalia, as a permanent fixture. The conical grinder itself is of stainless steel and sounds of reassuring quality, I imagine this will cope with our daily habit without complaint!
The LCD control panel is clear, with three ways to programme your grinding: by weight, by no. of cups, or manually. I'm pretty forgetful, particularly before my morning caffeine fix, so I found it incredibly handy that it could save my previous setting, meaning I could repeat the programme, or change the grind, and/or weight, to better suit my/my husband's taste. This I find is far better than a pre-set integrated coffee machine, which presumes (and always underestimates) how I like my coffee! The integral digital scale takes out that guess work, although fine-tuning your choice of grind takes a little trial and error, with a scale of 39 (1-5 for fine, 6-26 for filter coffee, 27-39 the most coarse end of the scale, for cafétières), but for us coffee making is a ritual, and rotating the dial and tapping in our preferred measures, then comparing results, was just another - pleasurable - part of the process.
Pros
Great for those who love their coffee, their way
Clear LCD, simple controls
No mess, no fuss
Quality stainless steel burr
Cons
Encourages even more coffee drinking!
4.5 out of 5 stars