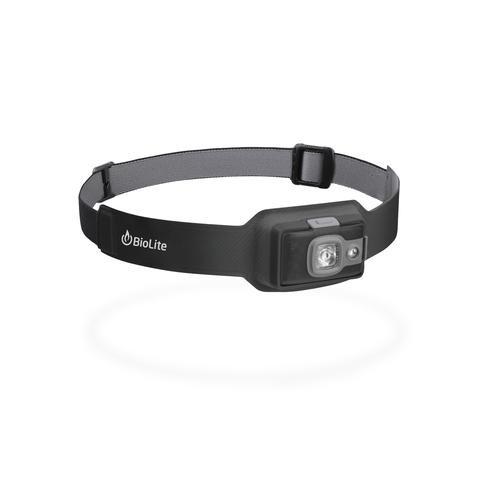 RRP £44.95
Website https://uk.bioliteenergy.com
BioLite's website states that the HeadLamp 200 is a headlamp so comfortable, you'll forget you're wearing it, and they're spot on. Constructed with a 3D slimfit, the Headlamp 200 is integrated gracefully into the band that sits around your head, staying flat on your head and providing a trim finish. This sleek device comes in four lovely colours: you have a choice of Midnight Grey, Ocean Teal, Moss Green and Ember Red. It is extremely comfortable to wear and weighs in at only 50g, whilst also packing one hell of a punch.
It is incredible to think that such a small head torch can create such a strong output. The HeadLamp 200 has a max output of 200 lumens with a beam distance of up to 50 metres, and offers white and red lighting options, both of which can be dimmed or strobed. The HeadLamp 200 can also be tilted downward, making whatever you are doing in the dark much easier. The strap around your head has been created using moisture-wicking smart fabric: this will keep your forehead dry whilst you are wearing the HeadLamp 200 and means that it won't slip off your head if you are feeling a bit sweaty.
The control panel is easy to use while you are wearing the HeadLamp 200; with only a few buttons you can comfortably alter the modes with ease. For your safety, there is a reflective strip on the head band, so are also visible from behind.
The HeadLamp 200 can continue working for up to 40 hours depending on high or low usage: constant high usage will provide you with approximately 3 hours burn time. Once you have used up all the juice, you don't need to worry about fiddling about with changing batteries in the dark; the device is fully rechargeable via USB, so you don't need to worry about carrying batteries around with you all the time - just make sure you have your portable charger instead!
Overall, we found the HeadLamp 200 to be very impressive. As keen campers in the GadgetHead office, a device like this would be very handy. Whether it's pitching up in the dark or simply having a read, the HeadLamp 200 will provide you with hours of light and certainly brighten up your darker days.
RRP £44.95
Website https://uk.bioliteenergy.com
Pros
Comfortable to wear
Very bright
Great value
Cons
Reduced burn time on high usage
Rating 4/5