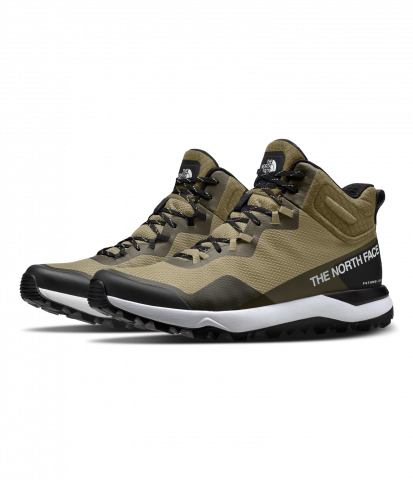 Men's and Women's Activist FUTURELIGHT Mid Boots by The North Face
RRP £130
Website www.thenorthface.co.uk
The North Face has recently released their Activist FUTURELIGHT Mid Boots for Men and Women. Famous for outdoor wear, the brand has become synonymous with comfort, quality and fashionable sentiment. At first sight, these boots are stylish, sleek and have a tidy finish. The men's boots come in two colours – Kelp Tan/TNF Black and TNF Blue/TNF Black. The women's boots come in Zinc Grey/TNF Black and Cayenne Red/TNF Black.
These versatile boots are suitable to wear whether you are rolling in the streets, rambling on countryside footpaths or hiking up mountains. Features of the Activist FUTURELIGHT Mid Boots include a protective toe cap, an OrthoLite Hybrid footbed, a gusseted tongue, an Integrated ghillie lacing system, EXTS outsole traction system and a moulded collar.
Although these are high end boots, they fit with a trainer-like comfort. Each boot weighs 393g, so they won't have your feet and legs aching when you finally take them off. Whilst you are wearing them, you can also notice the breathability of the boots. The Activist FUTURELIGHT Mid Boots come with breathable-waterproof FUTURELIGHT membrane that means no matter what pace your walking at, your feet will be kept dry. Say goodbye to cold and wet feet because the FUTURELIGHT footwear range from The North Face comes with innovative and advanced waterproofing technology. The materials, treatments and processes used in creating these boots mean that your feet will remain dry due to the internal waterproof membranes, adhesives and seam-seal constructions.
Overall, we were once again very happy with these Activist FUTURELIGHT Mid Boots from The North Face. Even if you aren't an avid hiker, we would still recommend these boots. They are fashionable enough for day to day use and are incredibly durable. Buy these boots if you want to feel comfortable, dry and stylish on the go!
RRP £130
Website www.thenorthface.co.uk
Pros
Durable

Stylish

Breathable
Rating 4/5