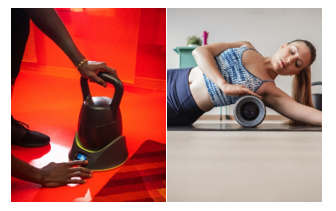 RRP Foam RollerConnect - £69/KettlebellConnect - £229
Website: jaxjox.co.uk
Introducing the Foam RollerConnect and the KettlebellConnect from JAXJOX. JAXJOX is a health and fitness company looking to fill the gaps between traditional workouts and the 21st century. Combining equipment found in the gym and smart technology, its products can hone your workout to your needs, optimising your fitness regime all in the space of your home!
Starting with the Foam RollerConnect, JAXJOX has created a way to improve on the bog-standard foam roller you'd find at your gym. As usual, the foam roller comes with three massage zones on the exterior, but with five levels of intensity, you can now feel vibrations through the Foam RollerConnect whilst you are looking to alleviate muscle soreness and recover from your workout.
If you connect the Foam RollerConnect to the JAXJOX app, you are able to monitor your recovery, change settings on the foam roller via the app, or even use a free guided routine provided by the JAXJOX app. You can tell the Foam RollerConnect which part of the body you are rolling out, so whether its arms, legs, or back, it will vibrate at the optimum frequency and duration for your needs.
The KettlebellConnect is a similar device by JAXJOX that combines traditional gym equipment and modern technology. JAXJOX has created a kettlebell that is adjustable to 6 weights in 1, ranging from 5.5kg - 19kg – these are changeable at the touch of a button! Alongside this, the KettleBellConnect is also able to monitor your workout so you can constantly keep an eye on your progress. The JAXJOX app takes all your data and can provide you with a Fitness IQ: this makes progress easy whilst working out at home, so it looks like I won't need my personal trainer anymore!
Similar to the Foam RollerConnect, the KettlebellConnect provides you with guided sessions, making sure that you are getting the true benefits of a kettlebell workout. With gyms and public workout spaces shut for the foreseeable future due to the current global situation, the Foam RollerConnect and the KettlebellConnect certainly seem like a couple of worthwhile investments. They take up minimal space in your house, they have various settings/weights/workouts to follow, and they both track your progress whilst connecting to your phone or your Apple watch. JAXJOX really does put your workout into your own hands. With diverse and ground-breaking pieces of equipment such as these, you will have no excuse not to get the reps whilst on lockdown!
Pros
Sleek designs
Guided workout
Tracks progress
Cons
Expensive
Rating 5/5