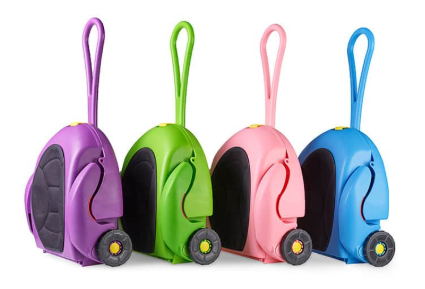 CarGoSeat
RRP: £49.99
https://cargoseat.com/get-your-cargoseat/
Smart travel solutions are evolving at a fast pace, so when a product such as the CarGoSeat arrives, people immediately sit up and take notice.
At first glance, it resembles funky-looking luggage with its carry handle and portable design. Open it up and this semblance continues with ample storage space (10 litres) and a secure locking system to keep the possessions within secure.
The cool design however means that the CarGoSeat then turns into a booster seat suitable for your young ones in the back of the car, even ensuring there are armrests available for comfort and safety.
There are bound to be spills on car journeys at some point, however it really is easy to clean both the plastic body and the durable seat pad. With fabric booster seats, these clean-up operations can often be daunting and stains tend to stubbornly stay put, so it is refreshing to be able to wipe this seat clean and leave no marks.
It is a great travel aid when taking your family on holiday. Pack the CarGoSeat with your child's possessions, wheel it out to the car and install it as the booster seat. When you get to the airport, for example, it is a simple and quick process to convert it back into the carry case for your child to wheel around. Parents will love the efficiency of it and children will love having their own colourful, customised luggage filled with their favourite toys, clothes, games and so forth.
Obviously, being plastic means that there is always the question of how environmentally friendly it is. Credit to CarGoSeat then that, once you have finished with your seat, you can send it back to them and they will recycle it free of charge.
For the efficiency, durability and reasonable price, the CarGoSeat could well be set to become a must-have item for those parents on the go.
CarGoSeat has no metal parts and the clasp is easy to open for little fingers

Available in four bright colours – Purple, Green, Pink and Blue

Dimensions: 395mm x 406mm x 148mm (L x W x H)
Pros:
Efficient and easy to use

Durable and easy to clean

Great storage
4.5/5