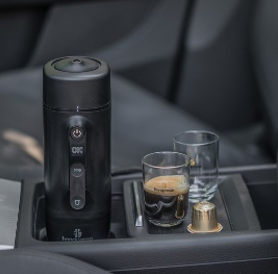 Handcoffee Auto 12V and the Handpresso Auto Capsule by Handpresso
RRP £155
Website www.handpresso.com
When you're on a long journey it can certainly get a bit tiresome. Sometimes you are desperately waiting for that next Welcome Break to appear from over the horizon! Alas, if you must still drive for another 100 miles, where are you going to get your next espresso or creamy macchiato? You can't stop at a truck stop, because they always serve the grimmest coffee known to man. If you are a coffee snob like me, what are you supposed to do in this predicament? Well fear not! Handpresso has got you covered.
Handpresso creates a lovely range of coffee machines that are suitable on the move. You can drink the perfect coffee anywhere – at any time! The Handcoffee Auto 12V and the Handpresso Auto Capsule by Handpresso allow you to brew a lovely standard coffee or espresso from the comfort of your own car.
The Handcoffee Auto 12V makes a lovely short or long coffee for you using Senseo Pods. Simply park up in a lay by or other sensible place, plug the Handcoffee Auto 12V into the cigarette lighter of your car and you are ready to go. All you need to do is make sure you have water already in the device and that the Senseo Pod slotted in the correct position. Then, simply hold the machine over your mug and press a button to serve. Whether it is a black coffee, cappuccino or a macchiato, once you have poured your drink, you will be greeted with the wholesome scent of hot coffee.
The Handpresso Auto Capsule is more or less the exact same device as the Handcoffee Auto 12V. You also plug this coffee maker into your cigarette lighter and it will prepare the perfect espresso for you in less than three minutes. The only criticism for the Handpresso is that it only makes espresso using Nespresso capsules. Even those Senseo Pods and Nespresso capsules are different sizes, I think that Handpresso could have combined the two devices and made one ultimate portable coffee machine that produces black coffee, cappuccino, macchiato…and espresso!
However, these portable coffee machines by Handpresso do provide a valuable service to the traveller. If you are travelling for days on end, taking a flask of coffee will not be enough. So, whether are you are in the jungle, outback, or simply too far from the next service station, if you need that coffee fix, Handpresso has got your back.
Pros
Tastes good
Easy to use
Convenient
Cons
Could have combined the two products
Rating 4/5
Images: