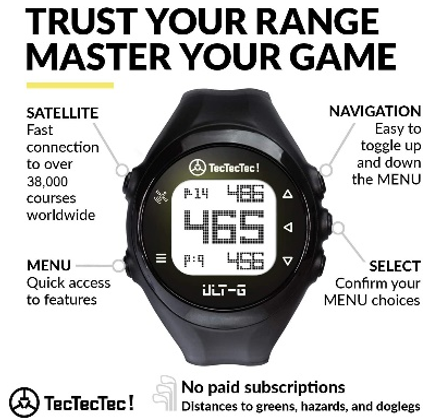 The ULT-G Golf GPS Watch by TecTecTec
RRP: £107.14
Website: tectectec.com
The ULT-G Golf GPS Watch by TecTecTec is a new golf watch to provide you with everything you need at the touch of a button whilst you are playing your next round on the green.
The ULT-G Golf GPS Watch is a sleek device with a digital interface that sits on your wrist just like a normal watch. It is incredibly easy to set up and use and has a battery life that will last for two and a half 18-hole rounds.  This great golf watch has no subscription fees and updates to the courses are free.
No matter where you are, you should be able to use this TecTecTec device on your local course. The ULT-G Golf GPS Watch has access to information on over 38,000 golf courses around the globe. You will be able to measure where you are on the course, and the distance from you to the front, back or middle of the green. You will also be able to measure the distance of your shots and how far you are away from certain hazards, which will certainly up your game and give you an advantage over your competitors at the golf club!
A lot of devices like this require you to download an app or have it connected to a smartphone. However, the ULT-G Golf GPS Watch by TecTecTec has all the information in needs within the watch itself. Auto Course Recognition means that selecting your course is easy: you simply press the satellite button and the watch will know exactly what course or hole you are playing.
Overall, the watch is very robust and does what is says on the packaging. TecTecTec has once again produced an innovative piece of technology, and compared to other golf watches on the market, the ULT-G Golf GPS Watch lives up to expectations. It measures distance on the course as well as, if not better than other watches or range finding devices. Arguably, the only feature that it is missing is the option to keep score, but there's nothing wrong with using a traditional score card! This is a great watch and an even greater piece of technology, courtesy of TecTecTec.
Pros
Simple design
Easy to use
No subscription
Updates are free
Cons
Doesn't keep score
Rating 4/5
Images: