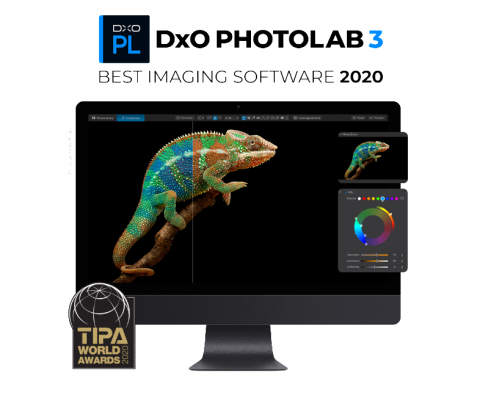 PRESS RELEASE
April 14, 2020
DxO PhotoLab 3 was awarded the 2020 TIPA Award for Best Imaging Software
DxO, one of the most innovative companies in the photography and photo-editing industry, is excited to announce that the world-renowned organization TIPA (Technical Image Press Association) has just presented it with the 2020 TIPA Award for "Best Imaging Software" for DxO PhotoLab 3, the most advanced editing software on the market in terms of image quality.
The TIPA jury is made up of the world's top editors-in-chief in the photojournalism industry. They meet once a year to select the best photo and imaging products in the market. The selection criteria take into account everything from innovation and the use of cutting-edge technology to design, user-friendliness, ease-of-use, and value for money.
By drawing on its more than 18 years of expertise in photo processing, DxO PhotoLab has created a comprehensive RAW- and JPEG-editing solution. Its scientific approach is based on camera pre-calibrations produced in a laboratory setting. DxO PhotoLab features the most comprehensive and high-performance palette of processing and editing tools available as well as a flexible and intuitive workflow. These tools include DxO PRIME exclusive noise reduction technology, DxO Smart Lighting automatic exposure optimization, DxO ClearView Plus haze removal, and U POINT™ local adjustment technology.
"This latest award further confirms DxO PhotoLab's position as a leading photo-editing software program," says Jérôme Ménière, founder and CEO of DxO. "DxO PhotoLab 3 is the result of several years of research. It is the culmination of our goal to give photographers of all levels the ability to fully express their passion using the best tools available."
The 2020 TIPA Award is another marker of DxO PhotoLab's quality. The first version of the software won the 2018 TIPA Award for Best Imaging Software.
The TIPA jury says: "DxO PhotoLab 3 is an amazing RAW processing software. Its wide range of adjustments adds to the already large arsenal of creative tools available in previous versions. Among the new options is an innovative HSL colour control tool for fine-tuning colour values; an improved Repair Tool for retouching and replacing image parts with powerful feathering and opacity controls; and an optimized asset management tool that supports keyword management. All the tools are easily accessible from a well-designed user interface."
About DxO
DxO is now one of the most innovative companies in the photography and image-editing industry. It designs and sells the most high-performing photo-editing software on the market for amateurs and expert photographers alike. One of its programs, DxO PhotoLab, is an advanced photo-editing software that was presented with the 2020 TIPA Award for Best Photo-Editing Software. Its line-up also includes Nik Collection By DxO, a famous suite of creative plugins for Adobe Photoshop, Lightroom Classic, and Elements that is used by millions of photographers throughout the world.
Press Contact
Bleat PR
Kathryn Lamb
+44 (0) 1327 844 880
DxO, U POINT™, and Nik are brands owned by DxO Labs. Other trademarks and trade or brand names may be used in this document to refer to either the third-party owners of trademarks or to their products. DxO Labs makes no claims whatsoever with respect to the registered trademarks and brand names of third parties.