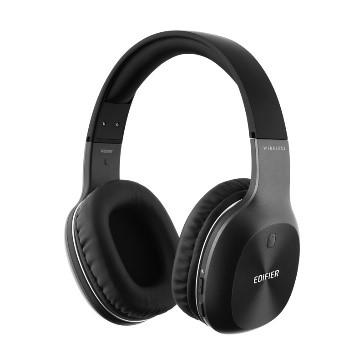 Edifier W800BT Wired and Wireless Headphones
Edifier have been in the headphone business for some time now. They have produced a wonderful range of headphones, earbuds and gaming headsets that are a go-to for many GadgetHeads just like us!
Wireless headphones are certainly the future for audio and the W800BT range from Edifier do not disappoint. With the optional colours of black/white/red, these comfortable headphones look the part whilst packing a punch too.
These new Edifier headphones sit comfortably on your head with a lovely light frame. Many other sturdy headphones suffer from heaviness and mean that after a couple of hours of use can become incredibly uncomfortable. The W800BT headphones still manage to be sturdy and with their ergonomic fit you could comfortably wear these all day without realising you have them on!
Like other headphones on the market, they come with on ear controls. You can easily play and pause audio at the touch of a button. If you are old school – you can also wire the headphones. Simply plug the aux into your headphones on one end and in your device on the other. The only criticism of this feature is that the aux wire can sometimes get caught on something – and if taut – it has a habit of pulling the wire out of the headphones. However, this is the case for all Bluetooth headphones now and certainly not an issue with this specific product.
 Edifier were clearly aware of this issue when they were making these headphones. They have created the W800BT with enough battery power that you will never even need to worry about carrying the aux with you! Featuring Bluetooth Version 4.0, these headphones have a colossal 800 hours of stand-by time, 50 hours playback time, and a mere 3 hours charge time. You could fly around the world twice with these headphones and still have 10 hours of usage to spare!
You will thoroughly enjoy using these headphones if you get a pair. They sound crisp and clean, all the while delivering a punchy bass aided by the 400mm drivers making this range sound incredibly professional.
Retailing at £39, the W800BT give you bang for your buck. They look, sound, and feel like a pair of headphones that you could get for £100 or more. Many people nowadays just buy brands – and quite frankly – get ripped off for it. Be aware that you can be economical with headphones and get the same quality and spec as Beats, Sony or Sennheisers. Forget these brands, it is all about Edifier!
Rating 5/5
Pros
Comfort
Bass
Price
Cons
n/a
RRP £39