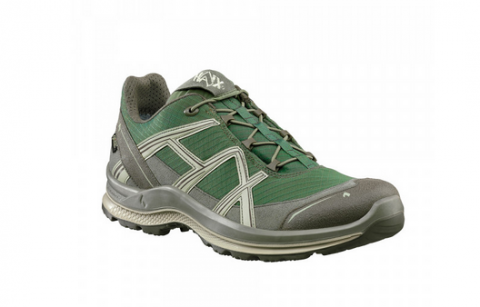 HAIX - CrossNature - Black Eagle Adventure 2.1 GTX
It is not a nice feeling when you are halfway through a lengthy hike and your footwear is making every step torture. In the past, I have worn boots that start off comfortable and, over the space of a couple of hours, reveal their true sadistic nature, resulting in a thoroughly miserable walk. Thankfully, HAIX have developed the Black Eagle Adventure 2.1 GTX and they live up to their cool name.
These shoes are the perfect companion for said hikes. Not only are they comfortable and look the part; their design ensures your feet are safe throughout your journey. There is no chance of slipping while wearing these and, even if you mistime your step and end up in water, you will remain dry.
After traversing some difficult terrain, it was pleasant to find no scuffs on the protective sole and not a stain in sight. These boots are designed to last and getting back after the initial jaunt showed no wear and tear. They looked good as new.
Many of the walking boots and shoes I have worn in the past were heavy. The Black Eagle Adventure 2.1 GTX are much lighter and don't feel like they are weighing you down as you walk. When you also feel how secure they are, it means peace of mind when you are heading out into bad weather or through rocky terrain. There are no worries about them slipping off and you can walk with confidence on the hardest hike route.
The price may be high but you are paying for quality, durability and safety. There really will be no need to buy any other walking shoes.
https://www.haix.co.uk/haix-black-eagle-adventure-2.1-gtx-low-olive-rock
Pro's:
Non-slip

Extremely durable

Waterproof
Con's:
RRP £134.90
5/5