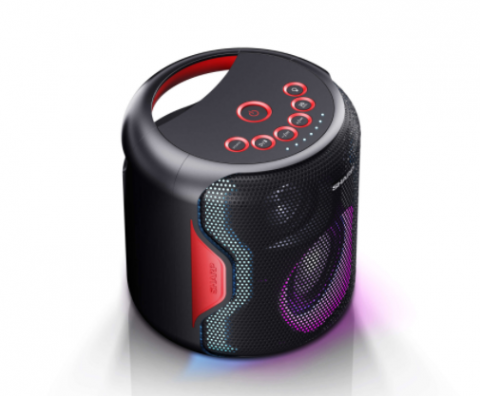 Sharp PS-919 Powerful Wireless Speaker
Sharpconsumer.eu
RRP £109.99
 This fun little portable speaker has been designed to liven up parties and social gatherings, and it's wearing its party spirit loud and proud in its look. Available in either black or white, those colour descriptions don't really do the Sharp PS-919 justice: both versions come with funky red detailing and pink, blue and other multi-coloured 'disco light' displays when it's playing.

There's something very retro about these speakers to me. They remind me of my chunky battery-powered CD player that I'd bring when hanging out with my friends, or the smaller, still chunky speakers we'd attach to our mp3 players with wires a few years after that. Sharp seems to know it, too: the skateboard-filled advertising is very reminiscent of that period of time and makes me feel like these speakers should be kicking out Green Day and Avril Lavigne. However, these speakers are of course taking full advantage of modern technology, offering Bluetooth music steaming from any device, and even enjoying some fun pairing technology if you happen to have a second PS-919. Bring two of these speakers together and they'll work as a team to play your music in stereo – nice!

These speakers put out a good amount of sound with a nicely balanced quality, plenty of bass and an impressively immersive end result. They have a 14h play time at full charge, with a max power output of 130W. It's carrying a 4" woofer speaker and two 2" tweeter speakers, plus 3D surrounding and Super Bass effects. Impressively, and helpful for enjoying music on the go, these speakers are also waterproof at IPX5. You don't want to go taking these in the pool, but you don't need to worry if they get caught in a spot of rain.

The PS-919 measures in at 220 mm W x 220 mm H x 224 mm D and weighs 2.7 kg. You wouldn't want to use it as the music system for a house party, but if you're out on the go, it produces a great sound and is a fun retro shout-out to days past, with all the convenience of a modern Bluetooth speaker.

4/5

Pros:

Fun design

Impressive sound for its size

Long play-time

Pairs with other PS-919s to create stereo sound

Waterproof IPX5


Cons:

A little pricey (especially if you want two!)

Could be lighter