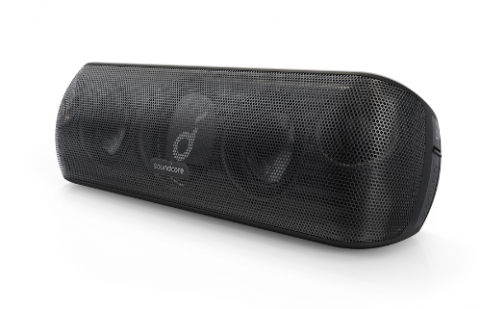 Soundcore Motion+ Bluetooth Speaker
Once again, Soundcore are packing a punch. The new Motion+ Bluetooth Speaker created by Anker is another addition to their range of speakers that provide pure audio power.
Boasting two ultra-high frequency tweeters, neodymium woofers, and passive radiators, the Motion+ will make a boom in your room with its uncompromising bass boost and 30W of sound, whilst offering rich range of frequencies with its ultra-wide reach of 50Hz to 40kHz.
Ultimately, on first impressions, I admire the Motion+. The design is simple. It is merely a sleek black block, chunky, but with smoothed edges. The speakers sit upwards at a fifteen degrees slant, this means that with Soundcore's enhanced sound dispersion, the entire room is filled with music, and you can still enjoy the full experience of the songs whilst moving around and not having to constantly reposition the speaker.
The Soundcore Motion+ was certainly designed with a party in mind. An outstanding twelve hours of playback time means you can charge the 6,700 mAh Li-ion battery throughout the day via the USB-C port, then party all night without the music unexpectedly dropping out. If you are not afraid of noise complaints, then you can ask your friend to bring their Motion+ speaker over for wireless stereo pairing, as you can now connect to two devices with just one device, creating double the trouble! IPX7 waterproofing means that even if you are rocking out in the garden and you get caught out by April showers, then your Motion+ speaker will be protected! IPX7 protection also means that it will be safe from accidental submersion of one meter for thirty minutes – so go ahead, be reckless and balance it on the edge of your bath whilst you finish off a bottle of wine and listen to your relaxation playlist too!
Hardcore music fans will also be drawn to the Soundcore Motion+ Bluetooth Speaker. Sometimes the genre of music that you are listening to requires a more nuanced sound balance. After purchasing the Motion+ speaker, the Soundcore app available to download on Apple and Android smartphones devices, this allows you individualise each listening experience. The Soundcore apps offers you the ability to use various pre-sets for different genres or you can just customise the EQ to your own personal preferences.
Retailing at £99.99, the Soundcore Motion+ is a fair price for a high-quality product. If you are looking for a sturdy speaker that sounds like a beast but will also brave the elements, then the Soundcore Motion+ is certainly worth investing in.
RRP £99.99
Pros
Bass Technology
Twelve Hours Playback
Customise EQ through App
Cons
None
Rating  5/5