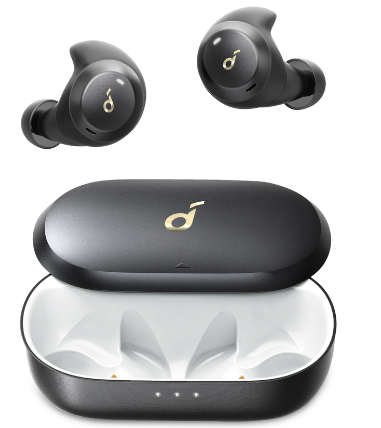 Soundcore Spirit Dot 2 Earphones
As our world continues to develop, our first world pains and problems become distant memories, and wireless Bluetooth technology continues to get better and better! So, if you are still trying to untangle your headphones while reading this, then I think the Soundcore Spirit Dot 2 Earphones are the product for you!
With booming bass and unprecedented sound quality, the Soundcore Spirit Dot 2 Earphones could compete with any over-ear headphones that are on the market currently. Usually earphones can be tragically tinny, but the Spirit Dot 2 Earphones come with diamond-coated drivers surrounded by bass-inducing elastic that maximise the low-end and will make you feel like you're right in front of the speaker at a club if you're listening to some bass-heavy EDM on a run.
For many, earbuds can regularly be a turn off because of their inability to fit in the ear canal. But comfort is a priority for Soundcore, as can be witnessed with the 5 sizes of EarTips and 3 sizes of AirWings that come in the box. The compact fit of the Spirit Dot 2 earbuds means they are ultra-small and 20% slimmer than usual. This means that even if you have big, small or wonky ears, you'll be able to wear these for hours with pleasure and ease.
It seems that Soundcore tailored these new Spirit Dot 2 earbuds to the more athletic types but that doesn't mean these aren't suitable for you if you're just using them on the commute or for chilling at home. The sweat proofing and waterproofing provided by the earbuds IPX-7 protection troubleshoots a common issue with all other earphones. Backed-up by the uniquely shaped Zero-Pressure AirWings that secure to the EarTips, these earphones won't be slipping out of your ears anytime soon!
Another key feature is the case. The box comes with a USB charger that allows you to charge your earbuds whilst they're in the case. You can also use the case as a charger on the go. If you run out of charge, and then put the earbuds back in the case, ten minutes of charging will provide you with an additional 60mins play time! Potentially running out of charge on the go is a big risk with Bluetooth headphones. Earbuds are even more risky because you can't just connect a cable between the earbuds and your phone or music device, so carrying this case with you on a run or the commute might just save your bacon!
These earbuds definitely tick all the necessary boxes. Sound quality, comfort and practicality are all covered by the Spirit Dot 2 Earphones. Soundcore have left nothing to be desired with these perfect earbuds.
RRP £79.99
Pros

Comfort
Usability
Sweatproof
Bass-heavy
Cons
Rating 5/5