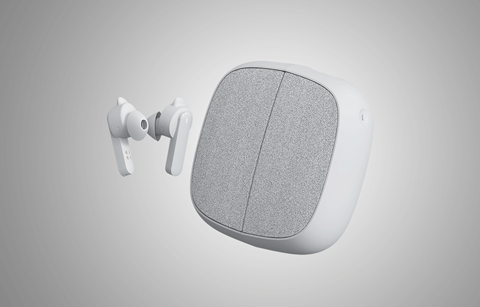 Duolink SpeakerBuds
https://duolinkgo.com/
Currently $99, reduced from $149
The Duolink SpeakerBuds are a fantastic idea: switching intuitively between three play modes, this product combines a portable Bluetooth speaker with wireless earbuds.
The speaker itself switches between a normal mode and a dual speaker mode, signaled simply by either leaving it in tact or taking apart its two magnetized halves. Likewise, the speaker base knows when you remove the earbuds from inside it and automatically switches to playing your music through them when you do. This whole product is amazingly intuitive – to change volume, skip tracks etc., all you need to do is slide your fingers over the ear buds. The earbuds even know when you're wearing them and pause your music whenever you take them out. Why don't all headphones do this?
My first impression of the Duolink was the gorgeous packaging: a sturdy royal blue box with attractive golden art and text. Oddly, we had been sent the white SpeakerBuds inside the blue box (the SpeakerBuds are available in white, dark blue or a vibrant red). Also oddly, whilst the ear buds and the speakers' interior are a sleek design that matches the box's art style, the product's exterior looked a bit faded in comparison.
Practicality wise, though, the design is brilliant. Inside the Duolink, the case and earbuds feature some minimal 'gold detailing' that is, in fact, what allows the SpeakerBuds to know whether your speaker is intact or connected and whether your buds are out or in – aka, which play mode to activate. This detail makes use of the Duolink SpeakerBuds seamless and was a feature we really loved.
In terms of charging, the SpeakerBuds take about 1.5 hours to full charge, and the base can charge these buds up to nine times before requiring charging itself. The Duolink SpeakerBuds have 22 ft of sharing range, meaning, among other things, that you can split the speakers in half and listen to the same music with your friends whilst hanging out at a safe social distance. The earbuds have AI noise-cancelling mics in them that also allow you to make calls clearly, and their design was comfortable to wear.
4/5

Pros:
Good sound quality from speakers and earbuds
Seamless, intuitive switching between play modes
Easy, slick controls
22 ft sharing range
A Bluetooth speaker and wireless headphones & charger in one

Cons:
Speaker design looks a little underwhelming in real life