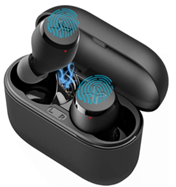 Edifier X3 audio ear buds
It seems that Edifier are back at it again with the high quality yet low-price headphones. The new X3 range sees Edifier creating a premium in-ear headphone with Bluetooth connectivity, but for the fraction of the price of competitors.
In the packet, you are provided with two earbuds, a few spare ear tips, a charging case, and a cable to charge the case too. The case takes a mere one and a half hours to charge and the earbuds offer you a whooping six hours play back, plus an additional eighteen hours from the charging case. You can literally use the Edifier X3 headphones twenty four hours a day!
The Edifier X3 earbuds have features just like that of alternative audio brands that sell for up to ten times the price. They are very easy to pair to your device and have a very simple touch control that allows you to skip songs, answer calls and activate the voice assistant. Noise cancelling is a welcome feature too - this will block out background noise while you are trying to listen to music, and will also cancel out background noise when you are using the microphone so that the people you are calling on the go will be able to hear you clearly and concisely. These headphones also come with IP55 waterproofing, meaning that you can take these on a run, go for a walk in the rain, or even fall into a lake and they should keep working!
Because of the stylish and ergonomic design, the X3 range fit comfortably into your ear canal. They are lightweight and subtle - both yourself and others will not even realise that you are wearing them! The Edifier X3 earbuds come in just two colours – black and white. Though there is not much choice in this case, they are guaranteed to look smart and sleek, nonetheless.
Once again, Edifier has pulled out all the stops with the X3 earbuds. They look good, they sound good, they are everything that a headphone should be. Truly a welcome addition to the budget headphone market.
Rating 5/5
RRP $33.99
Pros
Playback time
Ergonomic design
Price