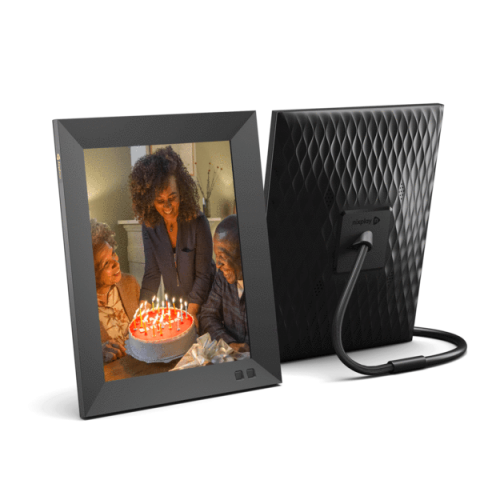 Nixplay Smart Photo Frame

£269.99
www.nixplay.co.uk

Nixplay know all about digital frames, and the Smart Photo Frame (WiFi) brings together everything the company knows about making your imagines look at good in your home as they do on your phone.
Smart frames allow you to cut out the fiddly process of getting your photos printed and mounted for display, which not only saves you time and money, but means you can freely and easily change out what images you want to see as often as you want. You could have a selection cycling through, or have one photo one day, and another the next, keeping your room looking nice and fresh, and making sure you never get so used to a picture that you stop seeing it. Another huge bonus in a smart frame is that not only can it display photos – it can display video, too. Get the Harry Potter portrait experience with moving images, such as beloved family memories or great clips from your last holiday.
Smart Frames might seem like a high energy consuming alternative to a regular picture frame, but one of the brilliant touches in this smart frame from Nixplay is its Hu-Motion Sensor. This detects whether or not people are in the room, and turns your smart frame on and off accordingly. There's no point projecting an image at an empty room, but as soon as you enter, your beloved snaps are there to be seen. The sensor works well, saving you energy whilst keeping your room bright when it can be appreciated.
The frame we received was 9.7 inches, but it is also available in 10.1 inch, 13.3 inch or 15.6 inch. The frame comes in a minimalist, glossy black or a shiny chrome. The 9.7 comes with '2K Ultra picture quality'. I'm not entirely sure what that means, but the images looked fantastic – crisp, bright, vivid and clear. The frame can be hung portrait or landscape, and the frame adjusts its display accordingly. The frame can also be free-standing, again portrait or landscape.

In terms of control, this smart frame couldn't be easier to use. It comes with a magnetic remote, convenient, and you can also manage the images, slide-show options etc via the Nixplay app. I remember when you had to load a digital frame up with an SD card – now, you can send images over WiFi, and making changes only takes a click.

This is a great looking frame that displays your images beautifully and is easy to use. When it comes to smart frames, what more could you need?

5/5

Pros:
Attractive, simple frame
Great image quality
Easy to set up
Motion sensor saves energy

Cons:
Would like more colour options