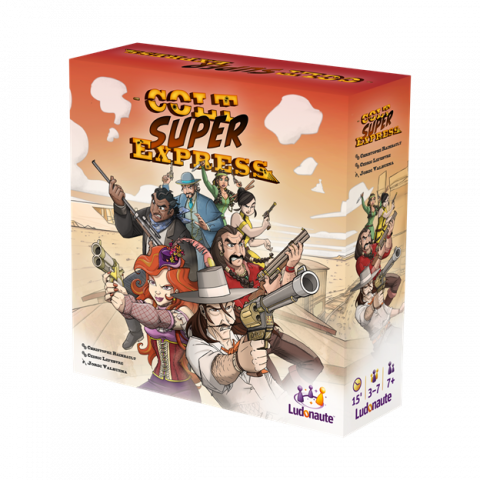 Colt Super Express
£13.99
ludonaute.fr

Colt Super Express by Ludonaute is a card game for 3 – 7 players set in the gun-slinging Wild West. You play as one of a selection of bandits that hold up a train, but the train driver has started fighting back by unhooking carriages. That's right – those carriages are your count-down.
The game is based on the award-winning Colt Express – a board game in which the aim is to end up the richest bandit on the train by the end of the session. In this sped-up card game variation, the aim is no longer to be the richest, but to be the last bandit standing! By the time the train runs out of carriages, your aim is to be the last one left aboard.

This rules twist and timed element makes this into a faster, more energetic, more dynamic game (hence "super express". You've got to love a pun). Rounds last between 15-30 minutes, making it an easy game to whip out whenever, as well a great warm-up or wind-down addition to your dedicated game nights.

The card art in this game is fantastic. These sorts of games really operate to a high bar when it comes to art, and this is no exception. With a range of brilliantly drawn characters and some fantastic western-style action shots, the art is as much a reason to buy this as the game itself. (I was also happy to see a good amount of racial diversity between the characters.) Plus, the wooden, pistol-wielding bandit counters are too much fun to miss out on.
This game is quick, light, simple to learn, yet competitive and cut-throat enough that I wouldn't exactly call it easy! If you enjoy Lifeboat, you'll enjoy this game. Whilst the mechanics are different, the...friendly spirit is similar. Alleviate some lockdown tension by turning on your family and friends with a game that has a great sense of humour, design and is a love letter to westerns.

5/5

Pros:
Fast-paced
Amazing art
Leans into the Western genre
Creative
Simple to learn