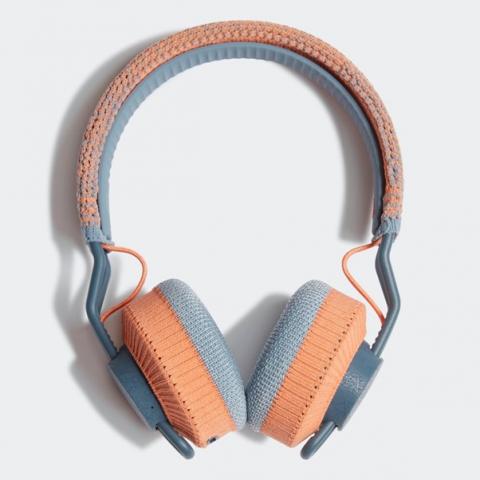 RPT-01 SPORT ON-EAR HEADPHONES
£149.95
www.adidas.co.uk/rpt-01-sport-on-ear-headphones
The RPT-01 Sport On-Ear Headphones are a cordless headphone from Adidas. The selling point of these headphones is that they're a chunky headset, rather than earbuds, that are made specifically for a workout. If you prefer full headphones for their sound quality or comfort, but feel like you need to switch to wireless earbuds for the gym, Adidas is here to give you another option.

Our headphones came in 'Signal Coral' and these are also available in Sky Tint and Legacy Blue. What this combination of Dulux paint names means is peach with accents of grey-blue and blue-grey. The other two designs available are a black and dark grey combo, or a softer grey and white that looks like a snuggly winter-day set of earmuffs. They don't really say sports work-out to me, but I would love to wear them whilst walking around with a latte and doing my Christmas shopping. This may not have been Adidas' intention, but they're super cute: in fact, every design is.

In actuality, the soft look of these headphones isn't to be snuggly – it's because they have been designed to be grippy and sweatproof. The knitted sports material absorbs sweat so that the headphones don't slip, no matter how hard you're working out, and you'll be glad to hear that the ear cushions and inner headband (aka, all the bits that touch you!) are washable. The headphones have an IPX-4 water resistance rating – don't take them underwater, but they can withstand sweat and splashes.
Something that really impressed me with these headphones was their playtime – up to 40 hours! That's a crazy amount, and perfect for someone like me who forgets to charge things. Wireless earbuds have the advantage of a charge case, but these headphones make up for the lack of this by having as much playtime as most earbuds and their case re-charge hours combined. The sound quality was also impressive, as was the comfort. These headphones really do offer all the pluses of workout earbuds, plus other bonuses besides. They're easy to use, with a simple dial on the side for skipping tracks and changing volume etc, and they feel impressively durable. Adidas says you can sling these into your gym kit without a worry, and it definitely seems to be the case. These are headphones you don't have to be precious about – they'll keep up with you, so you can focus on your workout.


5/5

Pros:
Long play-time (40 hours)
Comfortable
Good sound quality
Sweat resistant
Non-slip
Washable
Cute