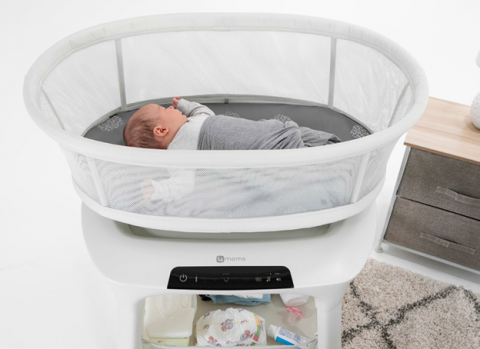 4moms® mamaRoo sleep™ Bassinet, Sheet & Storage Basket

£395.00
Storage basket: £35
Being a new mum is exhausting, and one of the most exhausting things about it has got to be bedtime. When all you want is a few minutes of peace so that you can catch up on your rest (or that list of things you can't do whilst the baby's awake!), the last thing you want to be worrying about is how long it's going to take your baby to go to sleep.
The 4moms mamaRoo sleep range is for all parents – mums and dads – who want an easier, happier bedtime routine. We received not only the sleep bassinet, but also the sheets and storage basket to go with it. All in a gentle white (or in the sheets' case, whites and greys), this set is a lovely-looking addition to your nursery, and brings a touch of technology to the time-old sleep issue. This bassinet literally rocks your baby to sleep for you, using a series of careful bouncing and swaying motions, just like the ones parents have been using since time began. At first, I wasn't sure how I felt about something mechanical cradling my baby for me, but it makes the transfer from mum's arms to bed so much easier to get away with. In total, it has five different types of motion (car ride, wave, kangaroo, tree swing and rock-a-bye), as well as five different speed settings, meaning you can select whatever both you and your baby are most comfortable with.

It's crazy how well this works. The relieved stress at nighttime and naptime feels life changing. I can finally think again! There are even four white noise options (rain, ocean, fan and 'shh'). The rain option proved very effective. Fantastically, both the sound and motion options are adjustable via an app, so you don't even need to approach the bassinet and risk disturbing the little'un by fumbling with buttons.
The sheets that come with the bassinet are a soft cotton with a very sweet design yet neutral cross-hatch design. As for the bassinet itself, it follows the AAP's Safe Sleep Guidelines – it's firm, it's flat, it's hazard-free, has breathable mesh sides that make it easy to keep an eye on your baby, and there's no way your baby is rolling out of it. This bassinet is suitable for infants from birth until they either reach 25 pounds or are able to push up on their hands and knees.

I appreciated the stand's adjustable height, so you can make sure your child is visible, and also greatly appreciated that the mattress and sheet are water-resistant and that the sheets are machine washable! As for the storage basket, there's not much to say, except that it's definitely a convenient detail. Given the unit's price, I assumed the basket would come included like the sheets, but was surprised to see this is a separate add-on item.

All in all, this set is brilliant. It clearly understands the needs of new parents and provides for them in a safe, reliable, clever manner. I'm resting easier with this bassinet in my home, as is the little one. I strongly recommend it!

5/5

Pros:

Safe, secure bassinet

Adjustable height

5 motion options and 5 speeds

4 white noise options

Settings controllable via app

Water resistant mattress & sheets

Machine washable sheets

Blanket included

Cons:

Storage basket costs extra