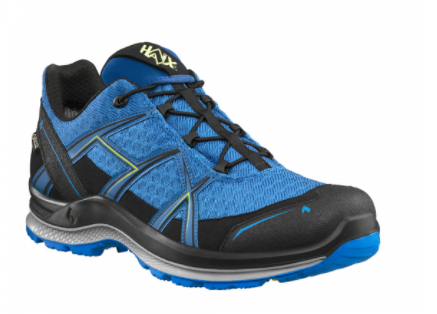 HAIX Black Eagle Adventure 2.2 GTX Low/Ocean-Lime
 
www.haix.com
€149.90
We are not unfamiliar with the HAIX brand of clothing at the GadgetHead offices. In fact, this is the eleventh review that we have done for any of their products. So, if you cannot tell already – we are big fans!
Today we will be looking at the HAIX Black Eagle Adventure 2.2 GTX Low that comes with a lovely Ocean-Lime colour finish. Straight from the unboxing, these are a stylish pair of walking boots and you can tell that the focus of this upgrade was on the mode of design. We previously reviewed the 2.1 version, and it is clear to see that all the positives from this range remain with the 2.2.
After going on a brief ramble, I can tell that these are another good pair of quality boots. Regardless of the weather or the terrain underfoot, you can be confident in knowing that you will remain stable in the HAIX Black Eagle Adventure 2.2s. Like the rest of their range, these HAIX boots boast an anti-slip feature, providing you with the traction underfoot that will have you covered even on the most precarious of icy footpaths. These boots are comfortable whilst you are wearing them and are easy to take on and off too.
The HAIX Dynaframe is a design element on these boots made from tensile and tear-resistant PU Material. This Dynaframe surrounds the top of your foot and takes the tension off of the lacing, allowing for a more comfortable fit. The Smart Lacing feature also allows for a quick release of the closed lacing system, making it easier to take off the boots after a long walk.
Additional features that make the HAIX Black Eagle Adventure 2.2 boots an essential addition to your shoe rack include the lightweight body and cushioning of the boot, the additional toe protection and the waterproof GORE-Tex® membrane. The outsole of the boot is made of rubber, and this makes your boots fuel and heat resistant whilst insulating your feet from the cold. Additionally, this rubber outsole is self-cleaning and does not scuff with marks.
Once again, HAIX has impressed us with another brilliant product. Even though the 2.2 does not have many new features compared to the 2.1 range, this does not matter. What does matter is consistency. HAIX reaffirms that they are able to make a product suitable to its means, and if you are looking for a good quality, reliable, and comfortable pair of walking boots, then we can assure you that the HAIX Black Eagle Adventure 2.2 GTX Low/Ocean-Lime boots will keep you in your stride, and will keep you looking trendy all the while.
5/5
Pros
Design
Anti-Slip
Comfort