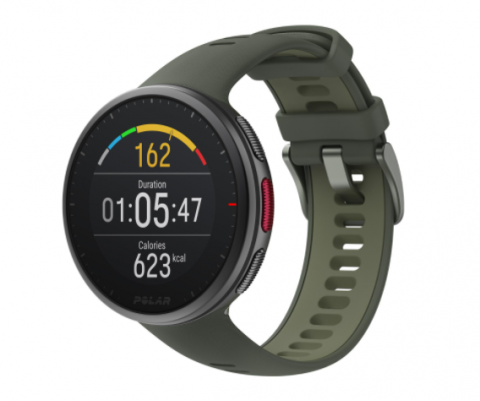 Polar Vantage V2 Sports watch

£449
www.polar.com
The Polar Vantage V2 is a sports watch with so many features, I'm not even sure if we'll be able to cover them all here! This watch is waterproof, it has a GPS, it monitors your recovery and performance rates, and it is equipped to help you with just about every step and stage of your workout and training regimes. Still think it sounds like the other sports watches you know? Let me try to break it all down – there's a lot to get through!

Polar is known for its heart rate sensors and workout monitors, producing products that can keep track of every element of your body's fitness progress. In the Vantage V2, they seem to have pulled their tech together into one piece of kit. This watch offers various performance tests, including different modes for testing your cycling and running, and also offers various specialised recovery tests, including an all-over Recovery Pro™ and a more specific test for leg day. One criticism I have is that the Recovery Pro™ test relies on you owning a separate Polar heart rate sensor, which I expected to be a function built into the watch. However, the tests themselves were impressively detailed and yet also extremely easy to understand, which is a combination I appreciate.
One of the recovery monitors I was surprised by was a function called Nightly Recharge™, which measures how well you have recovered from the day's workout during the night. All you have to do is wear the watch during your sleep, and in the morning you will get two readings – your 'Sleep Charge' and your 'ANS Charge'. The 'ANS Charge' refers to your automatic nervous system: the watch monitors how much this has calmed down during the night by measuring your heart rate, heart rate variability and breathing rate. The 'Sleep Charge' measures, you guessed it, how well you slept. Combined, the watch will give you a read-out to tell you whether you're ready to train again or whether you should take it easy today. The readout is nice and easy to understand, with a red to green system and messages like 'Very Good'. This was a nice touch, as I wouldn't be sure what to make of a number read-out next to an ANS Charge. The whole feature was something I'd not come across before, and I was impressed by it. However, do remember to also listen to your gut.

This example gives an idea of how carefully this watch measures _everything_. You can track your performance, see what areas need improvement, see how well your body is taking the strain– it definitely takes the guess-work out of work-outs. On top of these features, the watch also has a GPS system that allows you to plan your running or cycling routes (using the Komoot app), and you can even connect to wireless headphones and navigate your playlist etc from your watch, which is so much easier than pulling out your phone.

In regards to the look and feel of the V2, I was surprised at how light it was in comparison to some fitness watches. It was comfortable to wear, and I was a fan of its sleek, minimalist, down-to-business look. This watch doesn't get in the way, meaning you can wear it all day and make the most of its monitoring functions - I was even able to wear it comfortably in my sleep.

This monitoring is all very well and good, but the detail that takes the V2 from 'neat' to 'extremely useful', in my opinion, is the watch's ability to sync this data with your other fitness apps. This is done using Polar Flow, which also comes with training planning and analysis tools, an automatic training diary, progress reports, and many other support tools. This, plus the ability to integrate your data with your other apps, makes the V2 a fantastic all-inclusive fitness watch.
The Polar Vantage V2 is available in either Small or Medium/Large. We received the watch in green, but it is also available in blackand silver & grey-lime.
4.5/5

Pros:
Comfortable
Lightweight
GPS
Music navigation
Monitors performance & recovery
Syncs data with other apps

Cons:
Some functions require a separate Polar heart sensor