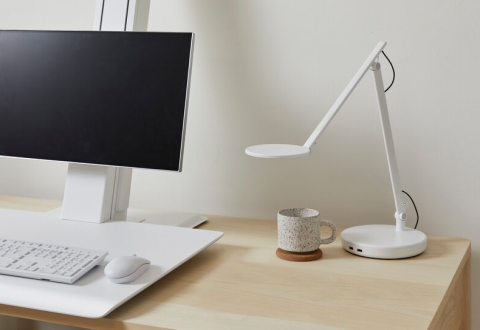 I have been experiencing the highs and lows of home office set-ups during lockdown (and Lockdown Two: The Sequel), so as you can imagine, I was thrilled to receive a series of products to test from Humanscale. Based in New York, Humanscale is a company that focuses on producing ergonomic, carefully designed office furniture and accessories that aim to give you the healthiest, most comfortable office set-up you can get, and to look stylish into the bargain. Let's face it – when we evolved, we weren't evolving to sit in one spot for our 9 to 5, so when we're at work, we need to take care of ourselves. This became more apparent to me than ever during lockdown, as I spent months hopping from one chair to another in my house looking for somewhere to hunker down with a laptop, and my back hasn't thanked me for it! Now, finally, I've put together a proper office space. So, how did these products from Humanscale fit in?
RRP $379
Promotional offer code is WFHG-GH
Whilst setting up my home office, once of the pieces I struggled to find was a suitable lamp. The Nova task light from Humanscale is extremely stylish in a simple, sleek, industrial way that makes it look like it belongs in a converted New York loft. This directional light is easy to adjust to any angle, lighting up your workspace however you need, and its LEDs kick out a strong 440 lumens beam. It's a brilliant amount of light without being glaring, making it perfect for lighting up an office space.

Lamps like this that I've had in the past had a tendency to slip and lose the position you set them to, so I was impressed to see this light didn't do that. That's thanks to something Humanscale called 'Forever Hinges'. I was also impressed by the lamp's touch dimming function – 440 lumens is the recommended amount of light for a work surface, but if that's too bright for you of your office's location, you can set it to the exact amount you need.
There's something about this beam that felt very clean and artistic. It creates a single, clear shadow, which shows how clear the beam itself is. Wonderfully, the lamp is also green – its LEDs should last for 50,000 hours, and the lamp is Energy Star certified for being energy effective. It even turns off when it hasn't detected movement for a while, so you don't need to worry about wasting power by leaving it on!
We received the Nova task light in black, but it is also available in white or grey. The model also comes with optional charging bases, which let you wirelessly charge your phone! How clever is that? It definitely saves space, rather than having a wireless charger sat on your desk as well.

All in all, I was very impressed with this lamp, and everything else we received from Humanscale. My office space have definitely levelled up!

5/5

Pros:
Clean LED beam
Fully adjustable direction
Holds its shape
Saves energy
Touch dimmer
Motion detection
No glare