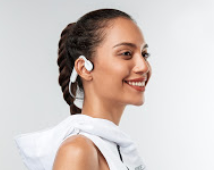 Aftershokz Openmove Wireless Bone Conduction Headphones
You learn something every day, and today, I learnt that you could use headphones that don't go in or over your ears. Yes, that's right. Bone conduction. And yes, that term is new to me too. But that's what Aftershokz are doing with their new Openmove Wireless Bone Conduction Headphones. Primarily to allow you complete awareness of your surroundings, these Aftershokz hook on top of your ears and the earphone speaker sits between your temples and your ear canals. They are surprisingly very comfortable and fit very well. This is a product that I have been waiting for quite some time to get my hands on. When I am on a jog and come up to a junction or a tight corner, I have to slow my pace, in case a car is coming from behind me or there's an old woman or mother with a pram around the corner. I certainly don't want to be hitting anyone or getting hit myself! And now with these headphones I can keep the pace up without the fear of an accident. The bone conduction technology is in fact patented by Aftershokz, so it's very exclusive to these headphones, this allows them to provide you a superior dynamic stereo sound. Again, I was pleasantly surprised that you could hear the audio from them incredibly clearly, all the while, being able to hear everything else around me (as if I had no headphones on at all)!
In the past, I ran with in-ear headphones, they managed to stay in while I was running but only with constant adjustment every 5 minutes or so. I got my hands on some headphones with hooks over the ears and if I had to bend over to re-tie my shoe – they would just fall straight out and the buds would work their way out and need adjustment. With the Aftershokz Openmove headphones, you have full freedom of movement, so you could even do yoga with these in!
As well as being a revolutionary pair of headphones, these Openmove Bone Conduction headphones also come with all the staples that you would expect from a pair of sports headphones. They are sweat resistant, so they will withstand the most intense workouts. They also come with a 6-hour battery life, so you can go all afternoon with them on.
Looking back, I can't believe that I use to thread a pair of £3 headphones under my t-shirt while I was at the gym or going for a jog. The wire would snag somewhere and pull an earphone out, the earbuds would slip out of my ear canals constantly, and the aux would pull away from my iPod. Long gone are those days. If you're as sporty as me, get a pair of Aftershokz Openmove Bone Conduction headphones.
Rating 5/5
RRP £79.95
Pros
Open-ear comfort
Good fit
Excellent sound