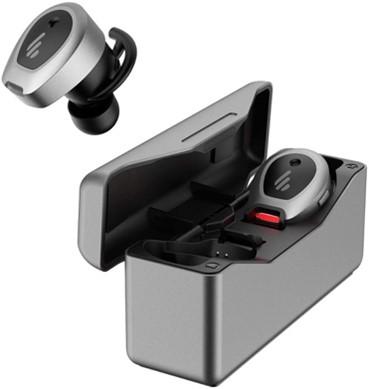 Edifier TWS NB True Wireless Active Noise Cancelling Earbuds
Edifier are one of the key players in the headphone game. Time after time they release excellent pairs of headphones. It seems that they are maintaining their form with the new TWS NB True Wireless Active Noise Cancelling Earbuds. These are a sleek design that fit comfortably in your ear. They are very discreet and if you have slightly long hair, no one will know you're wearing them at all. They do what they say on the packet too – the noise cancelling is very effective and definitely make a difference to not having this turned on. However, if you were walking down a very busy street, you would still be able to hear the hustle and bustle around you. This isn't a criticism of these headphones particularly though but just of noise cancelling technology in general.
The main selling point of the TWS NB headphones would be the mighty battery life. You get a whopping 33-hours of playback time with them. If you frequently travel long distances for work or simply listen to a lot of music or podcasts, you will be able to rely on these Edifier earbuds for a couple of days before you even need to think about recharging them. The charging case is beneficial on the go to as they will charge your headphones without having to find a plug socket.
One criticism of these headphones would have to be the latency. If you are going to use these to watch videos on a laptop or phone, don't bother. The lag between the audio and visual will be minor but more annoying over time. Again, most Bluetooth headphones suffer from this problem, so you can't completely blame Edifier for this.
With a lovely punchy bass aided by the 13mm large graphene diaphragm, you will be able to enjoy all the bangers on your playlist while using these. The TWS NB headphone are great if you want to be able to have a good quality sound with a great amount of battery time. The price is a little bit steep though. At £110 they are mid-range headphones, but I have definitely used pairs that are just as good and aren't as dear in price.
Rating 4/5
RRP £110.99
Pros
Long battery
Sound quality
Noise cancelling
Cons
Price
Latency