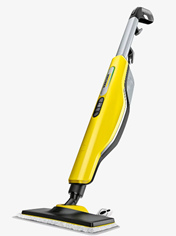 Karcher Steam Cleaner SC 2 EasyFix
Whether it's your floor, your kitchen, or your bathroom, there are times when you just can't manage to clean off that last stain, no matter how much elbow grease you're putting in! Nowadays a lot of our chores are left to electronic devices – the vacuum cleaner, the washing machine, the dish washer. But areas such as the hobs, taps or wall tiles remain a manual task. So, if light scrubbing just isn't getting the job done and you don't want your house stinking of powerfully corrosive chemicals, then maybe a steam cleaner might be your next best guess.
The Steam Cleaner SC 2 EasyFix from Karcher aims to take the hard work out of the deep cleaning in your house and claims to be able to remove 99.999% of enveloped viruses and kill 99.99% of common household bacteria. And did I mention it does this simply with water from the tap?
Taking the SC 2 EasyFix out of the box, you get the steam cleaner in a lovely yellow colour and it more or less resembles a hoover in the sense that it is nice and portable, packs away easy with all of the accessories, and doesn't weigh too much either (3kg). It is incredibly easy to set up, simply take a jug of water and fill the main compartment. You will be ready to begin steam cleaning within a few minutes. The extension tube attaches easily, and there is either a microfibre floor cloth or a microfibre cover for the nozzle if you're using that instead. There is steam flow regulation on the handle which controls how much steam you need to treat the surface you're cleaning with. If you have young children around the house, you will be happy to know that there is a child proof lock and safety valve, allowing you to avoid any nasty accidents. The SC 2 EasyFix works on floors with stone, laminate, and vinyl surfaces. You can also use the SC 2 on glass surfaces such as windows, oven doors, and shower screens. If you are working on harder to get to surfaces, such as taps or in other nooks and cranny's, the detailed nozzle and round brush will help to clean away that remaining dirt.
It seems that Karcher are maintaining their high standards when it comes to cleaning equipment. With the global pandemic, it is crucial that we maintain high standards of hygiene, whether this is in the workplace or the home. As this product can kill 99.999% of corona viruses and bacteria, I would definitely favour this over just using a mop. The multifunctionality of the Karcher SC 2 EasyFix certainly makes it more desirable than other steam cleaners on the market at the moment. Even if you're not a clean freak – make sure to get one of these – and protect those around you by killing all those horrible viruses and bacteria!
Rating 5/5
RRP £119.99

Pros
Kills 99.999% of viruses & bacteria
Multifunctionality
Easy to use
Cons
N/A