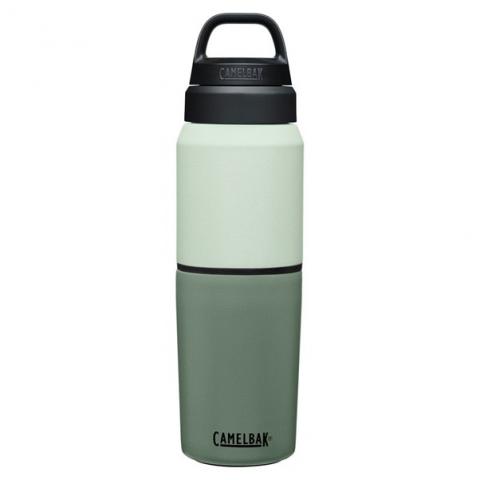 MultiBev™ SST Vacuum Stainless Bottle – 500ml
www.camelbak.co.uk
£49.99

I've never seen a bottle with this design before. We know thermoses and other flasks with a cup as a lid, but before we received the MultiBev, I'd never seen a bottle with the cup integrated at the base. This design allows you to use the MultiBev on the go as conveniently as any other bottle, without a cup getting in your way every time you open it, and yet you still have that cup stored and ready for when you're sitting down at the end of your hike or ride and want a proper drink.

We received the MultiBev™ SST 500ml Vacuum Stainless bottle in Moss and Mint, which are a fresh and natural pair of colours that put me in mind of all the outdoor walks I could/should do with this bottle at my side. If that's not your style, it's also available in Black, White, or Teracotta Rose.  It is also available in a bigger 650ml size too!

The 500ml bottle comes with a 350ml cup attached to the base, seeming like part of the cup until you remove it. It's got your hiking water and campsite coffees covered in one! The stainless steel, vacuum insulated bottle keeps your drink at the temperature you want for almost a full day – 14 hours hot, 20 cold. The cup, being open to the elements, doesn't hold its temperature for AS long, but it's still very impressive – three hours for hot, six for cold.

All elements of the bottle as dishwasher safe, which is music to my lazy ears, and the bottle is also very easy and comfortable to carry. It seems resilient, too – I wouldn't be worried about dropping it on rocks or having it knocking around in my camping gear. Also, speaking of knocking around in your gear, it doesn't leak! Its silicone Roll and Fold lid fits on nice and tight without any drips.

We're all looking for the right travel bottle or travel cup these days, not just for adventures in the great outdoors, but also for every-day life to combat disposable waste. With this, you have both in one, so you don't need to choose between them!

5/5

Pros:

Easy and comfortable to carry
Sturdy
Convenient bonus cup
Leak-proof
Insulated
Attractive design