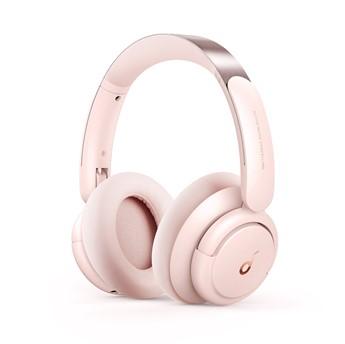 Soundcore Life Q30
uk.soundcore.com
£79.99 - £89.99

With so many headphone options on the market, how are you supposed to choose the right ones? The Soundcore Life Q30 seeks to answer that question by hitting all the in-vogue headphone requirements and attempting to take them to a new level. Improved noise cancelling, extended playtime, a lighter and more comfortable fit – Soundcore have definitely created something that can easily contend with the other Big Kids of the headphone world. Oh, and they look great.
These headphones only take five minutes to charge enough for a four-hour playtime. That's fast, and fantastic for someone like me who doesn't think to charge their wireless devices until the moment I want to use them. Four hours sound like a short battery life? That's only a fraction of the full thing – these headphones offer a 40-hour playtime at full charge, which means you could listen to music for almost two days straight without needing to charge them. However, that short charge burst for a four-hour session is brilliant, meaning you shouldn't ever have to get caught short and head out of the house without them.

So, what's so new and improved about the noise cancelling on these headphones? Either they do cancel the sound or they don't, right? Well, Soundcore have thought further than that – this model actually comes with four different sound cancelling modes for you to choose between, suitable for blocking out different kinds of disruptive ambience, or even for not cancelling the sound out at all. These modes as Transport Mode, which focuses on countering engine drones and other low rumbles, Outdoor Mode, which is deigned to combat traffic, the weather and the crowd, and Indoor Mode, which is designed for tackling noises in a quieter environment. Lastly, there's Transparency Mode, which you can click on and off easily at the right ear for those moments when you want to chat to somebody or safely cross the road with all your senses working. I love this last mode, because currently, I need to pause my music and even remove my headphones when I want to hear the world around me; now, I can keep listening if I want to.
The different modes are an interesting premise, and you might sometimes find yourself in a situation where you need to cycle through them to find the one that best suits the space you're in, but having these different options is brilliant for finding the ambient quiet you want. If none of them suit you, you can even use the Soundcore App to adjust the EQ settings to be exactly the way you want them.
Like many wireless headphones, this set allows you to answer calls using a built-in microphone, and the sound quality of both the calls and your music is fantastic. As for comfort, they're light-weight and the padding is lovely. They're unobtrusive and you can easily where they for long stints without any bother, which I find I need for Zoom calls these days as much as for music! Speaking of, you can attach to two Bluetooth devices at the same time, which I'm not used to seeing, meaning you can be connected to your laptop for your gaming of videos and can still seamlessly answer calls.
The headphones come in Black, Midnight Blue or Sakura Pink. All three options look extremely stylish and attractive. The Black model is £10 cheaper than the coloured options, at £79.99 rather than £89.99, and it looks just as appealing. We received Sakura Pink, and although pink wouldn't usually be my style, I loved them. The colours on all options are rich and clear, and all work extremely well with the metallic rose-gold accents.

All in all, this is a set of headphones that, aesthetically and functionally, is doing everything right. Effective, attractive and comfortable – I'm an instant fan.
5/5

Pros:
Four sound cancelling modes
Transparency mode
Adjustable EQ settings via app
Long play time
Fast charge
Lightweight
Comfortable
Pair with two Bluetooth devices at once
Attractive colours
Carry case