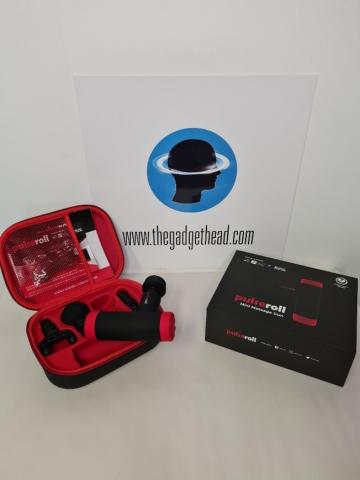 Pulseroll mini Massage Gun
www.pulseroll.com

RRP £129.99

I do my best to keep fit with a combination of running and weight training however as I get older I seem more prone to aches and pains, not pulled muscles which would stop me but just annoying aches.  With sore muscles a massage gun is an extremely useful gadget as it will increase blood flow and flush away lactic acid.  

The combination of pressure and short, sharp pulses helps to reduce muscle tightness, increase flexibility, and reduce soreness after a workout.
The Pulseroll is well presented.  It comes boxed up and inside the box is a zipped hard bag with designated spots for each part of the gun, the 4 different heads, instruction book and UBS cable.  It's a small, handy size massage gun in a convenient carry bag.
On the base of the gun there are the operation controls which are nice and simple with an easy read display.  Once you turn the gun on, you have light indicators for the 4 power settings and the remaining battery life and these 4 power setting give the gun good flexibility of pressure needed for varying muscle recovery and for different people.
The massage gun only comes in the Pulseroll brand colour of black and red only however this is a great colour combination.  The gun itself is a lightweight aluminium body which makes it easy to wield. Not only is it light, but it's a good shape to hold. This handle-like shape gives you control over the massage gun, allowing you to reach the exact spots you need, including hard to reach places on your back.

The Pulseroll massagers four different massage heads are the pneumatic head (flat), which is intended for soft tissue and full body massage; a Bullet head, which provides a deep tissue/pain point massage; a round head for a full body massage and a Spinal head/u-head for your neck, spine and Achilles' tendon.
It uses integral rechargeable Lithium Ion batteries charged with a USB C (included) and has a charge time of approximately 3 hours. And when fully charged it can last up to 3 hours dependent on power level setting used.

The instruction manual in the pack with gives good advice on body areas and how best to massage them. 
Many of the personal hand-held massagers I have used are a bit clunky, heavy or awkward to use but the Pulseroll is a brilliant balance. It's easy to wield, easy to use, and versatile in what it offers.

4.5/5


Pros:
One year warranty
4 changeable massage heads
Well presented in a nice bag
Easy to hold
Good battery life
Rechargeable
Lightweight
4 speed settings

Cons:
For deeper work you may need the bigger Pulseroll Massage gun
Only comes in black and red