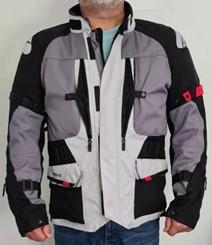 Alpinestars Ketchum Gore-Tex Motorcycle Jacket
https://www.alpinestars.com/products/ketchum-gore-tex-jacket
RRP £469.00
Throughout my many years of motorcycle riding, I can conclude that with motorcycle gear, you get what you pay for.  Too many times I have tried cheaper substitutes and been let down, so now I go for the best I can. Alpinestars have a reputation for durability, comfortable and great looking gear. I have just come back from a five-day UK ride and had the good fortune to be testing the Alpinestars Tech 5 Air Vest, which sits under your jacket.  https://thegadgethead.com/node/1786  As you need a bit of room in your jacket for this, I was also testing the Alpinestars Ketchum Gore-Tex Jacket, which is longer in the body to appeal to the adventure and touring bike riders. One thing I insist on with my motorcycle gear is Gore-Tex, as it is the only fabric I have always stayed dry with.
The Ketchum comes in three colour variants and as you can imagine, they all look great. As for fit, stretch panels under the arms make for a comfortable and good-looking jacket, and there are pockets and vents a-plenty.  It has a thermal liner which is easy to remove - my only criticism would be the Gore-Tex liner, which is sewn into the jacket and non-removable, meaning it does get warm in the summer. You are never going to get a huge amount of air flow through a fabric which is designed to keep water out. That said, the vents do a very good job to cool things down. It comes with CE armour in the shoulders and the elbows, and there is a slot for a back protector. However, this is an extra, as this jacket is usually used with the Tech Air 5 air vest, which has a build in back protector.
There is no doubt that Alpinestars make a quality product that is comfortable and good looking. As usual, I was thrilled with this jacket, and whilst it did get a little warm at times, it made all the difference on my five-day trip.
Pros
Attractive colours
Well made
Great protection
Gore-Tex
Cons
Price, however this is quality motorcycle gear
4 out of 5