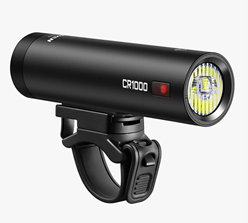 Ravemen CR1000 Light for cycles
www.ravemen.com   (UK distributor)
 
£74.99

The CR1000 front light from Ravemen has been designed specifically for cyclists taking long, high-speed rides at night. Perfect for a long home commute, everything from the beam to the battery life has been adjusted to suit this kind of ride, whether you're near the city or on a twisting rural road.

As the name suggests, the CR1000 is capable of a beam of up to 1000 lumens, although it has many other settings with dimmer beams. These settings can be switched between using a wired button that wraps around your handlebar, allowing you to adjust the light without having to lose your grip. I much prefer this to a remote that relies on a wireless connection, as this torch is designed for long, dark rides, and on rural roads you might not have a reliable connection when you need it. Even in this detail, Ravemen are thinking about the intended rider and their needs.

As for the beam itself, it is the second-ever torch to feature Ravemen's anti-glare optical lens. This lens creates a T-shaped beam that produces a close-range floodlight but a long-distance spotlight, lighting up the road ahead for you without throwing out light that will dazzle oncoming road users. This is a clever design that allows you to see further ahead without worrying about killing the long beam every time someone approaches. This removes a lot of stress when riding down dark roads that you don't know too well, and is much nicer than when I'm driving and constantly flicking back and forth from my high beams.

The torch also features small side lights – not enough to throw out a beam, but enough to be seen by road users viewing you from the side, thus keeping you safer and more visible at crossroads. The light even has a flash setting that's visible in daylight, in case you want to make extra-sure that you're seen on a light but dim day or particularly tricky roads.
With long journeys in mind, Ravemen has worked to give the CR1000 a long battery life by giving you a range of light-level settings to switch between, allowing you to conserve power as and when you can. At its brightest (1000 lumens), the battery life is 2 hrs; at mid brightness (600 lumens), it's 2.7 hrs; at 350 lumens, 5.8 hrs; and at 100 lumens, 25 hrs. As a pulse flash at 500 lumens, it can run for 43.5 hrs, and at a rapid 150 lumens flash, 45 hrs. However, the real boost to your battery comes from an external power source that you're able to plug in for an extra boost if you're ever worried about being caught short.

The CR1000 reaches to a maximum distance of 150 meters. It is IPX6 water resistant, meaning it can safely be out in heavy rain, and not only that, but it has a durable anodized aluminum body that can weather repeated exposure to the elements unaffected.
4.5/5

Pros:
Up to 1000 lumens
Multiple brightness settings
Flash settings
Flash visible in daylight
Sidelights for crossroads visibility
T-shaped, anti-glare beam
Extendable battery life
Button on handlebars to change beam
Beam up to 150 meters