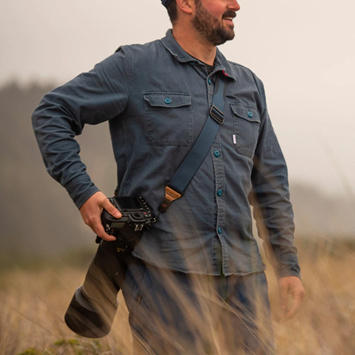 Slide Camera Strap – Peak Design
www.peakdesign.com
£48.23


My wife is a photographer, so I know how expensive a good camera can be. I also know how chaotic a photoshoot can be, and those two things don't combine well! Whether in the studio or on location, an organised shoot or spontaneous shots, as a photographer you're likely to be busy, on your feet, and to need your camera safely to hand. When my wife is running a shoot, she's all over the place, moving furniture around, helping out with a model's hair, leaping up and crouching down to check the light, and you never know when she might suddenly need her camera to check an angle or capture an accidental moment that turns out to be the highlight of the whole shoot.

With so much going on, it helps for her to always have her camera at her side, without it taking up her hands until it's needed. The Slide camera strap from Peak Design is a perfect solution, and not only is it reliable, but it looks good, too.

If you're more of a wandering photographer than a studio shooter, taking walks through city streets or beautiful locations and snapping shots as you find them, then a good strap for your camera is just as useful. Again, it allows you to have your camera safe, secure and ready to use, without needing to mess around with camera bags each time you need to grab it or the risk of being clumsy whilst carrying it by hand.

We received the Slide in midnight - a dark blue strap with tan leather fixtures at the ends. It has a lovely look – the colours and quality put me in mind of suits or good quality outdoors wear. The other options have the strap in a sage or ash grey colour with the same tan leather details, or alternatively, there is a neutral black strap with black details. I might be biased, as it's the one we received, but midnight was my favourite. It elevates your camera to something that feels both professional and a little stylish, in a way that both feels fashionable and outdoorsy – perfect for many different photoshoot headspaces!

The strap is versatile, able to be worn in a sling style, around the neck or as a shoulder strap. There is a pad integrated within the strap that sits comfortably on the shoulder, as well as a section with grips that help to keep it securely in place. Sliders allow you to adjust the strap's length, as one would expect, and it does a good job of holding that length once you've set it – you won't be constantly fidgeting and readjusting it as you work.

The ends have toggle-like anchor links for attaching the strap to your camera. These are easy to attach with a simple loop, and mean that the strap is universally compatible with whatever connection points your camera comes with. Amazingly, these diddy little toggles are able to support up to 90kg, so you shouldn't need to worry no matter your camera weight.

The price for this strap seemed a little high to me – there are so many costs involved when it comes to photography gear that not everyone has a spare 50 quid to throw at a strap. That said, there are cheaper options available, but what you get with this strap is a high quality in comfort, secureness and design. It looks good, it feels good, and it keeps that precious camera ready and safe.
4.5/5

Pros:
Secure grip
Easily adjustable
Holds up to 90kg
Comfortable padding
Attractive design
Can be worn three ways

Cons:
Not cheap