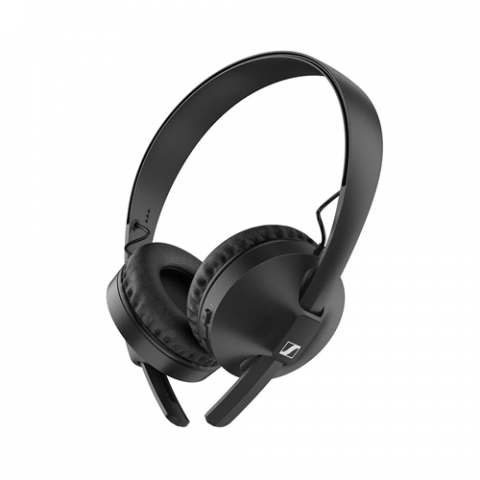 HD 250BT Bluetooth headphones - Sennheiser
en-uk.sennheiser.com
£ 59.99
The HD 250BT Bluetooth headphones from Sennheiser hit everything I look for in an over-the-ear headphone. Comfortable, strong sound quality, a good battery life – it has all the essentials, as well as a few bonus perks. The most obvious bonus is the freedom of a wireless connection, but there is also the unexpected addition of app-controlled configuration to really let you personalise how you use this headset.

This headset is far from the most dear. In fact, it's a very good quality mid-range option. The coverings over your ears themselves are a little small, whereas I prefer a larger, chunkier over-ear headphone, and the headphones as a whole feel quite light. That said, they seem very well made and hardy, and were extremely comfortable despite the slightly smaller ear-covering.
One of the distinguishing factors of the HD 250BT is its use of Sennheiser's acclaimed transducer technology, which is largely to thank for the headset's high quality audio output and its clear bass. This is complimented by the fact that these headphones support high-quality codecs within your listening device, such as aptX™ or AAC, thus allowing your music to come through in as much detail as your device can provide. On top of this, aptX™ Low Latency also works to keep your audio synched up with whatever you're watching on screen – perfect if you're gaming or watching a video.

Wireless headphones are always an ease and a joy right up until your first connectivity issue, but I didn't experience any issues with this headset. Using Bluetooth 5.0, these headphones were delightfully reliable even when pairing with devices that sometimes give me trouble. My other grievance with wireless headphones is the frustration of realising you've let them run out of battery, AGAIN, but with 25 hours of battery life, these headphones have more than enough to get you through.
For me, though, the really interesting thing about this headset was the app. I've had headphones in the past that allowed you to configure their output to within an inch of its life on your computer or laptop, but I hadn't ever had a set that allowed you to do this via an app. This is far more useful, given that you're just as likely to use these headphones with your phone or TV as with anything else. Whilst we do run the risk of being inundated with apps for every household product these days, this app is a fantastic addition; it isn't essential in order to use the headphones, but if you're a real audio-head and want to get your sound just right, then it's here to make that easy for you.
This headset feels comfortable to wear and gives you that little bit of extra control over an already well-balanced audio output. This level of audio quality at this price bracket isn't to be sniffed at.
4.5/5

Pros:
Balanced audio
Dynamic bass
Comfortable fit
Easily adjustable fit
Good price
Configure via app
25-hour battery life
Reliable wireless connection