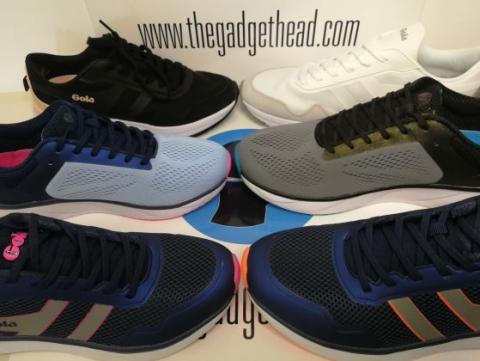 Typhoon, Ultra Speed and Atomics trainers by Gola

Our office has a surprising number of runners, and they were all extremely excited when a giant box arrived FILLED with trainers from Gola. Gola were kind enough to let us review not one but six pairs of their top-end designs - the his and hers of their Typhoon, Atomics and Ultra trainers. We handed them out to our review team and gathered together their opinions, as well as giving all the designs a careful side-by-side in the office. These were our thoughts:
Atomics: £60

 The Gola Atomics are available in black & grey; navy & reflex blue or white & grey for men and black & blossom;   white & grey or grey & vista blue for women. We received the white and grey for the men and the black and   blossom for the women. I would honestly wear the women's pair as an every-day shoe: like many, I spent   lockdown curating and heavily adopting a cozy athleisure look (aka stuff that was comfortable to sit around in   AND get my government-sanctioned moment of exercise in), and these would finish it off perfectly.
The product description emphasises "your fitness wardrobe this season", rather than talking about sports performance as some of Gola's other trainers do, and the feel of their fit implies that these trainers are designed for casual wear as much as anything. Whilst all trainers are geared towards sports performance by definition, some go more all-out than others, and I would say the Atomics are a more casual choice for someone who wants a suitable shoe to take into the gym, but is just as likely to wear them around town.
They're padded, cushioned, absorbent and really comfortable, great for jogging, using a treadmill and other gym equipment, but serving just as nicely for going to grab a coffee or walking the dog. For someone like me, who wants an all-round shoe that helps me out at the gym but also feels cute with an oversized hoodie on a lazy day, these are perfect, and at a perfect price-point. If you're more of a sports-head, you'll probably want some of the other trainers we checked out.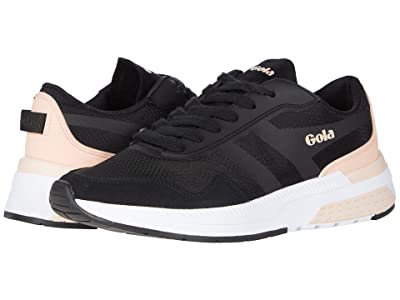 Pros:
-       Ghost ripstop superlite nylon upper
-       Lace fastening
-       Lightweight phylon sole unit
Comfortable and supportive for sports. Just as comfortable to everyday wear


 
4/5

Ultra Speed: £65

The next category up were the Ultra Speeds. For women, they are available in blue, navy & pink or grey, cool grey & hot   coral, and for men they are available in blue, navy & lime or graphite, black & process blue. We received the graphite,   black & process blue for men and the blue, navy & pink for women.

 The product description for the Ultra Speeds tells you to "Run Relentlessly", and putting them on, the first thing   we  noticed was how light they are. The focus of the Ultra Speed's design was clearly this lightweight quality, as well as a  focus on breathability, as the trainers are covered in a really breathable air mesh upper.

They were also designed with a molded foot-bed for better comfort and support, and a TPU overlay for added rebound and shock absorption. The midsole is made from cushioned phylon, which feels extremely lightweight and was responsive and springy when running, aiding your movements and absorbing shock on impact.

These are definitely more of a runner's shoe than the Atomics, though again, they are still affordable and comfortable for hanging out in as well if you want an all-purpose, gym-to-town trainer. If you're looking for that bit extra engineering and assistance without a huge extra cost, these are a great pair to try.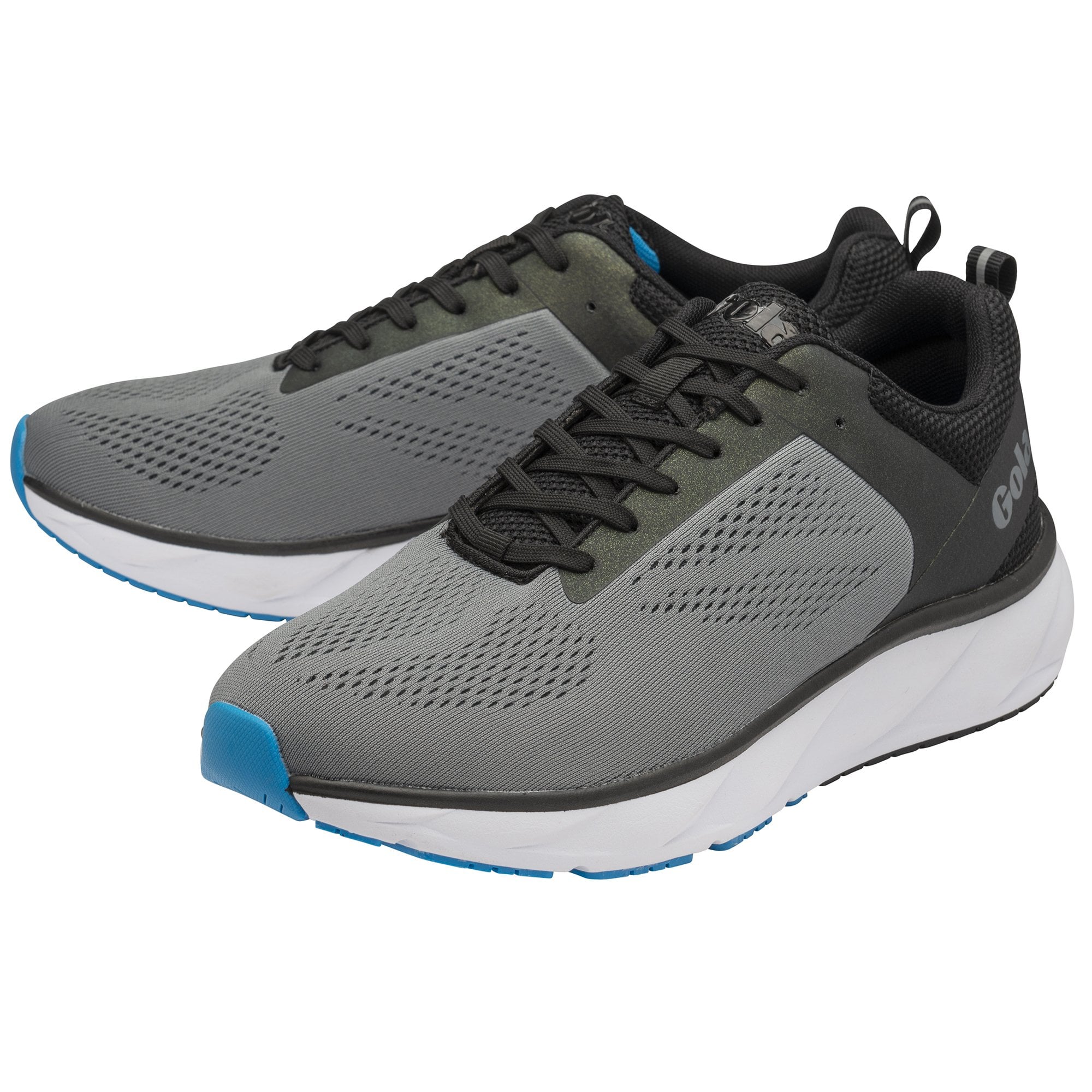 Pros:
 -       Engineered air mesh upper
-       Molded footbed
-       Cushioned phylon sole
4.5/5
Typhoon: £70
Gola's Typhoons are available in blue, navy & silver; navy, grey & orange or grey, black & volt (vibrant yellow) for men and grey & blue; blue, silver & pink or navy, grey & raspberry (vibrant pink) for women. We received the navy and neon orange pair for men and the navy and pink for women.

Looking at these pairs side by side, which were the same design apart from the orange and pink details, the orange was definitely more of a neon whilst the women had a duller fuchsia. That was a shame, as the neon looked great against the dark blue, and it made the men's version far more appealing. The women did have a neon pink in the Ultras, so it was clearly available as an option.
I have to say this to get it out of the way – as a woman, I am sick of dullish fuchsia being used on the majority of women's products. Please, product designers – give us something else. To be fair, there are several fuchsia-free options in the Gola's line-up for women, but I always find it a shame when I see a cool design for guys and an automatic fuchsia version for the girls.

As for the design of the Typhoon itself, this is one of Gola's highest-priced trainers, so we were looking for top-level quality. You can definitely feel it in the soles of these trainers: whilst the Typhoon feels light on your feet, you're still aware of how sturdy and supportive it feels under you, with a thick-feeling, absorbent and springy heel that makes you feel ready to spring forwards. The front of your trainer is much thinner, allowing you to run dynamically, and the midsole acts as a shock absorber. The shape of this trainer felt primed for running as soon as we put them on – it makes you want to go go go rather than stand around.

Like all of Gola's trainers, it has an open-air cell mesh upper for breathability and a molded footbed for comfort and fit, and it also had a padded neoprene sports tongue, which helped with the comfort. The whole thing is finished with a rubber outsole for durable traction.

Out of all the trainers, these felt the most action-ready. They're also be comfortable to hang out in, but as soon as you get them on, you can tell that they're made to send you forwards rather than schlepping around town. For the latter, the heal is a bit thick and the front is a bit thin, but if they're used for running like the designers intended, they aid your performance and protect your feet on the track brilliantly.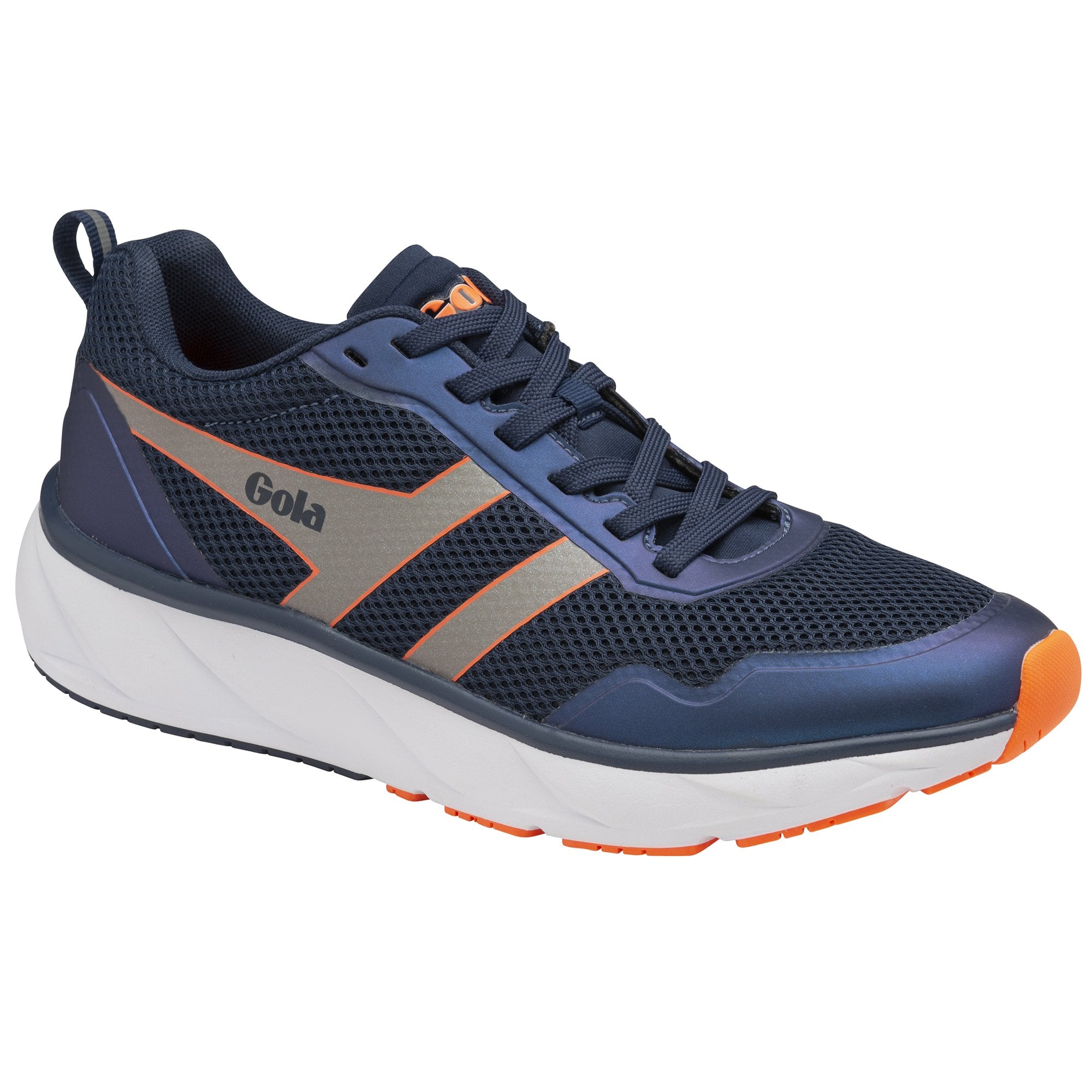 Pros:
-       Open air cell mesh upper
-       Molded foot-bed
-       Responsive cushioned phylon midsole
5/5
Overall
These were all brilliant trainers in their own way, made to fit different consumers for different purposes. In terms of appearance, our favourite design out of the ones we received was the men's Typhoon trainer in navy and vibrant orange, closely followed by the black and blossom Atomics for women. In terms of fit, if I had to pick a trainer to wear all day, I'd pick the Atomics over the others hands-down, but if I had to pick one to run in, I would go with the Typhoon. The Ultra Speed seem to be a perfect middle-ground, and also the best option on a hot day. Every option was quality – the question comes down to who you are and what you want out of your trainers.